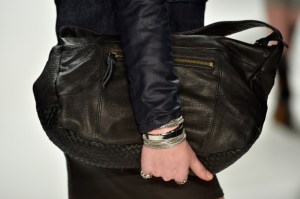 Men are better accessorized than ever before, according to a new study which shows overall sales for men's accessories grew 9 percent to $13.6 billion in the past 12 months.
Released by the NPD group—a global information company—the study shows jewelry, watches, sunglasses, bags, small leather goods, and luggage have grown 13 percent over a two-year period.
"Today, more men are looking to stand out in a crowd, and accessories are a way to make a bold statement without having to overhaul their wardrobes," Marshal Cohen, chief industry analyst of the NPD Group, said in a statement. "Overall, men are becoming more interested in fashion."
If you've kept your eye on the streets the news comes as little surprise. Whether it's a Lanvin leather card holder or Gucci aviators, men are proudly sporting high-end accessories to rival their female counterparts. Solange Azagury-Partridge, the esteemed London based jewelry brand, recently introduced a new line of men's jewelry called Alpha, and earlier this month designer Zana Bayne launched a line of men's leather accessories.
It seems the trend is only growing.