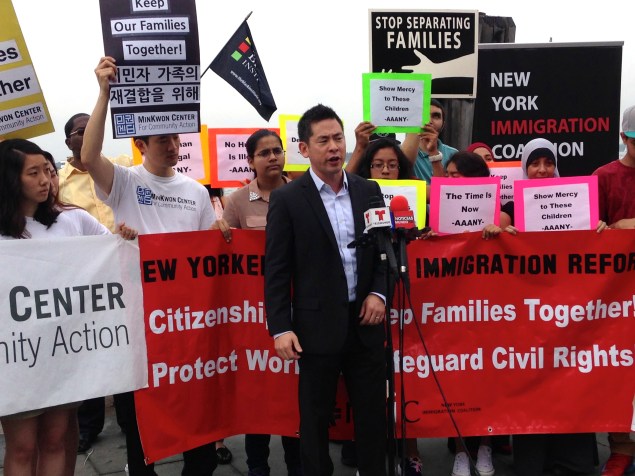 This morning, with the Statue of Liberty in the background, a slew of activists, politicians and religious leaders gathered in Battery Park to call on President Barack Obama for administrative relief and comprehensive immigration reform.
Steven Choi, executive director of the New York Immigration Coalition, which organized the event and also promotes the New Yorkers for Real Immigration Reform campaign, had a clear and simple message: "We are here because we want relief and we want it now."
"Fifteen days ago we stood in front of Federal Plaza and we demanded that our Washington D.C. elected officials act, stop using excuses for inaction. Just a couple of days later, the president listened and he promised that he would provide executive action to provide relief for our families," Mr. Choi continued, asking Mr. Obama to make good on his promise.
In recent days, Mr. Obama vowed to use executive action on immigration reform, due to the alleged inaction of congressional Republicans on the issue. But for many New York pols, that was not enough to satisfy them.
Bronx Assemblyman Marcos Crespo attended the event and questioned the president's commitment to comprehensive immigration reform.
"The reality is that Washington has failed us and politics have failed us so we need the president to act on his own if he is truly committed as he was on day one when he took office, and he said we would have immigration reform in the first 100 days. Well I think it went just a little bit past that," he said.
Linda Sarsour, the executive director of the Arab American Association of New York, had harsh words for the president and reminded him that his legacy remains to be written. Her words echoed the voices of other organizations present at the event, which also demanded more action from the president.
"We are tired of waiting for relief for our families. We are tired of the blame game, the Congress blaming the president, the president blaming Congress," Ms. Sarsour said. "I ask President Obama to leave his legacy with immigrant communities one of dignity and respect. The only legacy that President Obama has at this very moment that we stand here is the Deporter in Chief. Let's change that, President Obama."