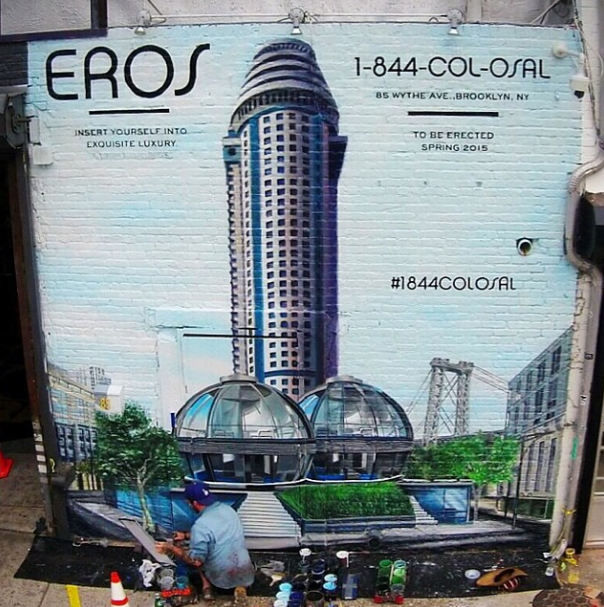 "Eros," whose tagline is "insert yourself into luxury," will not be erected in Spring 2015, much to the chagrin of Brooklyn's yuppies. Unfortunately, the mural ad for the super sexual Williamsburg building isn't actually real.
According to DNA Info, the ad for the phallic tower is just a clever ploy by Brooklyn-based advertisement company Colossal Media to recruit new painters for its apprenticeship program.
In celebration of their 10th anniversary, Colossal Media has taken to the streets, painting murals that falsely advertise an 85 percent accurate psychic, Nabisco's discontinued Uneeda Biscuit for 5 cents, and an L-train Missed Connection.
But in case you were planning to follow up with one of those ads, fear not: they all have some telltale sign that Colossal Media is behind them. The phone number listed on the ads, 1-844-COLOSAL, plays a barely intelligible automated message encouraging you to go check out "www.colossalf*ckingmedia.com."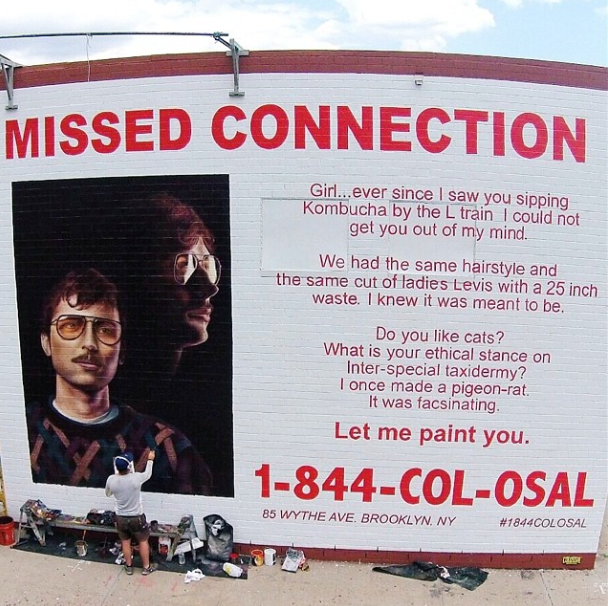 "It's to generate goodwill and to say, 'We understand who you are and what you might think is funny,'" Patrick Harrelson-Keyes, Colossal Media's executive vice president of business development said to DNA Info.
Since the ads went up about a week ago, 1-844-COLOSAL has been fielding 25 to 30 calls a day. While most people hang up (probably put off by the amount of f-bombs in the message), some will leave messages after the tone, pretending to be the subject of the Missed Connection.
"We think they're playing with us," Mr. Harrelson-Keyes told the site.