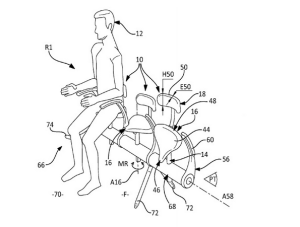 Since the extra fees, deplorable beverage selection, and the chance of getting a singing flight attendant doesn't make flying an already miserable experience, Airbus is looking to make it even worse.
The French aircraft manufacturer has submitted a patent for a new passenger seat that resembles a bike. The proposed contraption would have very little legroom, a bicycle-like seat, and a nonexistent headrest.
The idea, per the application as obtained by the Los Angeles Times, is to cram as many possible people into the plane so the airlines can increase their profits. In what sounds like a device straight from a torture chamber, the seats are strapped to a vertical bar so when they're not in use, they can retract to preserve space.
But before you freak out, officials from Airbus say that just because they filed a patent, it doesn't mean you're going to see the seats on your next Orlando-bound flight.
"Many, if not most, of these concepts will never be developed, but in case the future of commercial aviation makes one of our patents relevant, our work is protected," said Airbus spokeswoman Mary Anne Greczyn. "Right now these patent filings are simply conceptual."
We dread to see what other ideas they have.