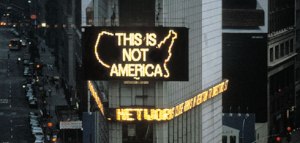 On August 1, a slightly more subtle example of moving, blinking lights will join the already-blinding billboards of Times Square. A Logo For America, a politically charged installation from Chilean-born artist Alfredo Jaar, will be on display in that lovely part of town thanks to the Times Square Advertising Coalition and Times Square Arts, in collaboration with the Guggenheim, who announced the event in a press release. It will be displayed simultaneously on five screens throughout the square, and will showcase over and over the phrase "This is not America." Those ambling from Guy's American Kitchen & Bar to American Eagle and then to the Good Morning America set, they might just look up and see "This Is Not America" lit up in the sky.
But it's been there before! From the press release:
A Logo for America features the words "This is not America" emblazoned across the flag and outline of the United States; Jaar thereby denounces the erroneous application of the name America to just one part of the American continent. Originally displayed in Times Square in 1987, the 2014 iteration underscores that, almost thirty years later, the representation of an entire continent is still monopolized by the same, single country.
The premiere all goes down this Friday, from 11:57 p.m. until midnight. No word on whether Mr. Jaar's son will DJ.