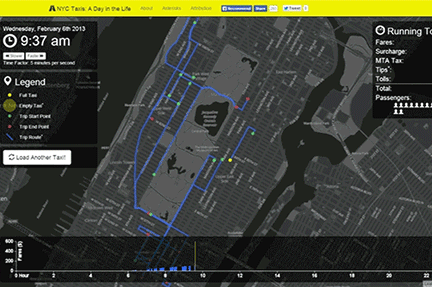 If you have ever idly wondered what it would be like to be a cab driver in New York, look no further than NYC Taxis: A Day in the Life.  This data visualization program tracks the frantic journeys that cab drivers make through the city, the amount of passengers they pick up per day and their earnings per trip. You can see that, amazingly, one driver worked for 20 hours, drove a total of 118 passengers and earned $600.73.
The site, created by programmer Chris Whong, is based upon data collected in 2013, and uses 24 hours worth of figures taken from 30 different cabs, tracking their movements from midnight to 11.59 pm.
"The intent is to analyze running counts of fares, taxes, etc, over the course of a day," Mr. Whong told Daily Intelligencer. "And to see how/when taxis move around New York."
The result is disorientating, hectic and bizarrely addictive.