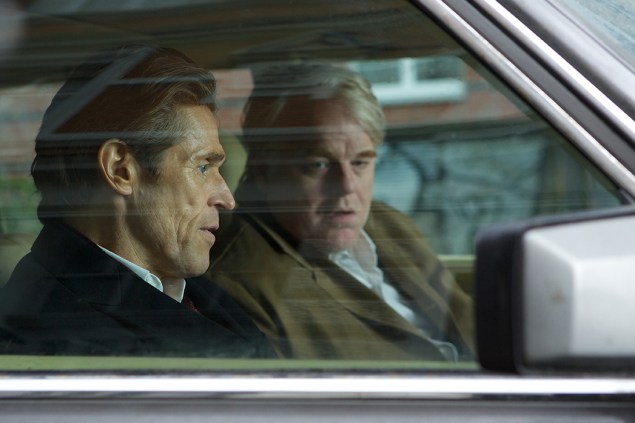 It's always fun to watch Philip Seymour Hoffman, even posthumously, acting all over the place, plunging headfirst into freaky depths with foreign accents where James Franco longs to go. The result is uneven in Anton Corbijn's A Most Wanted Man, a confusing spy drama that marks one of the esteemed actor's final screen appearances. Already looking ill and pale as chalk, it's not a kind way for a memorable artist to say goodbye, but there's one thing you have to admit about Mr. Hoffman—he may have been many things, but boring was not one of them.
---

A MOST WANTED MAN ★★
(2/4 stars)

Written by: Andrew Bovell
Directed by: Anton Corbijn
Starring: Grigoriy Dobrygin, Philip Seymour Hoffman and Homayoun Ershadi
Running time: 121 min.

---
Adapted from a 2008 John le Carré novel about post-9/11 espionage in Hamburg, a port city on red alert ever since Mohammed Atta and his fellow terrorists plotted their attacks on the World Trade Center from there a decade earlier, the movie begins when a hooded figure arrives mysteriously and is quickly identified by a secret German intelligence agency headed by rumpled, chain-smoking, heavy-drinking master spy Gunther Bachmann (Mr. Hoffman) as Karpov (Grigoriy Dobrygin), a half-Chechen, half-Russian immigrant suspected of being a Jihadist who has escaped torture and prison to seek refuge in Hamburg with a cell unit of Muslims. He can't go home to Russia because there's a price on his head. In truth, all Karpov really wants in Germany is to collect an inheritance worth tens of millions of Euros from his late father, a Chechen crime lord, that are being held in a bank owned by one Tommy Brue (Willem Dafoe).
Bachmann wants to protect Karpov from being captured by German intelligence officers before he makes contact with Islamic terrorists, in the hope of keeping the money for his own secret anti-terrorist organization. His own target is not Karpov, but a rich and powerful Muslim professor named Dr. Faisal Abdullah (Homayoun Ershadi) he is tracking who is suspected of financing terrorists through donations to a shipping company in Cyprus. Bachmann's strategy is to watch, quietly observe and foil his adversaries—a tough, two-faced and hard-as-asphalt American CIA agent (brunette and unrecognizable Robin Wright) who wants to arrest Karpov and claim a U.S. victory, the head of German intelligence (Rainer Bock), and a pretty human-rights attorney (Rachel McAdams) dedicated to sheltering and offering asylum to illegal immigrants—before they capture Karpov and confiscate his funds.
Are you still with me? Densely plotted, with everyone spying on everybody else, the movie is fraught with labyrinthine details more complicated than Egyptian hieroglyphics. The hash that evolves is too austere to generate much continued interest and too pokey and ambiguous to excite anyone outside the most devoted of Mr. Carré's fan base. Do not expect another version of The Spy Who Came in From the Cold or Tinker, Tailor, Soldier, Spy. In Bachmann's plan, which seems to be working, the lawyer saves Karpov. Karpov gives the Germans Dr. Abdullah, the Islamic academic. The professor is deported. Karpov gets asylum. And Bachmann's spies get the money "to make the world a safer place." But in a last-minute twist ending both annoying and inconclusive, the tables turn. It's the big MacGuffin in a movie that is deliberately contrived and perplexing enough already. Nothing much to look at here, either; from start to finish, Hamburg looks ugly as an industrial waste deposit.
Even when grappling with a German accent that comes and goes, Mr. Hoffman is worth watching as a weary, cynical, disheveled dyspeptic, and the rest of the cast lends solid support—especially the wonderful German actress Nina Hoss (Barbara) as Bachmann's loyal assistant. But other than the money, I can't imagine what convinced him this bore was worth doing. I didn't read the novel, but based on this head-scratching screenplay by Australian writer Andrew Bovell (Lantana), I doubt if I would get past the second chapter. Dreary, depressing and desultory, A Most Wanted Man is not my cup of Schokolade mit Schlagsahne.