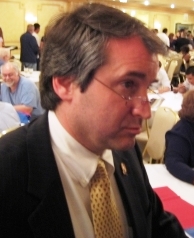 The following is a statement issued by Assemblyman Scott Rumana (R-40) of Wayne on the death today of former U.S. Rep. Bob Roe (D-8).
Mr. Roe was the godfather of Assemblyman Rumana.
"Congressman Roe was a true statesman. Bob was a man who came from very humble beginnings in a then very rural Wayne Township. He is the local boy who went on to become a giant of a leader, not only for the 8th Congressional District, but for the entire State of New Jersey and the United States of America.
"My entire family extends our deepest condolences to the Roe family. I will greatly miss all the teachings and guidance Bob continually offered to me. More importantly, I will miss his warmth and friendship. Rest in peace, Uncle Bob."