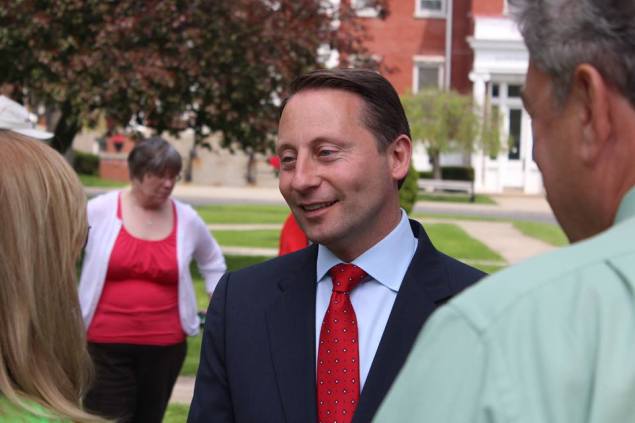 Gov. Andrew Cuomo is in Albany with no public schedule. His Republican rival, predictably, is fuming.
A day after the New York Times published a lengthy report about Mr. Cuomo's interference with an anti-corruption commission he created, Westchester County Executive Rob Astorino is accusing the governor of ducking the press. Mr. Astorino, a long-shot rival who predicted yesterday that Cuomo administration officials would eventually be indicted for meddling with the Moreland Commission, charged today Mr. Cuomo had breached the public's trust and needed to explain himself.
"Governor Cuomo can't keep hiding from the New York press corps. His office tampered with multiple investigations to protect political cronies and financial contributors.  He needs to account for that in a public forum — today," Mr. Astorino said in a statement. "Mr. Cuomo has perpetrated one of the greatest breaches of public trust in New York history, and that's saying something."
Mr. Cuomo, with much fanfare, created a Moreland Commission last year to investigate public corruption. The Democratic governor told the press at the time that it would be an independent commission free to investigate everyone, including the executive branch.
But the Times and other outlets revealed that Mr. Cuomo routinely interfered with the commission's work, stifling potential investigations of activities tied to the governor. Mr. Cuomo did not explicitly deny these charges, arguing that since he created the commission, he could also meddle with its investigations. Mr. Cuomo quietly disbanded the commission earlier this year, angering good government advocates and U.S. Attorney Preet Bharara, who is now conducting his own investigations based on the commission's work.
Mr. Astorino, badly trailing Mr. Cuomo in polls and fund-raising, also pointed out another frustrating element of Mr. Cuomo's first four years as governor, at least for the media and Albany insiders: Mr. Cuomo is often press averse, avoiding question-and-answer sessions with reporters for days or weeks at a time. (Mayor Bill de Blasio, in comparison, holds weekly briefings.)
"He doesn't just have to account to prosecutors, he has to explain himself to a public that once again has been burned by an Albany politician," Mr. Astorino added.
Mr. Cuomo did not immediately return a request for comment.