In the fulsome field of Classic Exit Lines, there's one in The Who & the What, Ayad Akhtar's new play at Lincoln Center's Claire Tow Theater, that's right up there with "Frankly, my dear, I don't give a damn." It brings the house down, then the curtain.  
It's only four little words, but they perfectly cap the preceding two hours of verbal head-butting that goes on in a family of Pakistani immigrants in Atlanta. In one corner is Afzal (Bernard White), the widowed head of the house, in the other, his headstrong, Harvard-educated first-born daughter, Zarina (Nadine Malouf).
Their areas of conflict are inevitable: Old World versus New, sacred versus secular, and, particularly, a woman's place in the world—or, as he sees it, "What place?"
Naturally, she makes a beeline to marry outside the faith, but her Irish-Catholic beau is scared off by controlling Papa Rose, who then shops around for a suitable son-in-law on the dating website Muslimlove.com and—surprise!—comes up with a keeper, Eli (Greg Keller), a white convert who runs a mosque and soup kitchen. 
Once married, Zarina settles into the incendiary business at hand—hers and the play's: writing a book on "women and Islam." This takes the form of a humanistic, feminist-tempered portrayal of the Prophet Muhammad—the sort of stuff that could get her stoned in parts of her homeland, but published without much ado here.
What's amazing about these characters—and a fourth, Mahwish (Tala Ashe), the No. 2 daughter, impatiently awaiting her turn at the altar—is that they're presented with such intelligence and conviction that they pull you into their domestic squabble. All are treated even-handedly and sympathetically: there is no villain in sight.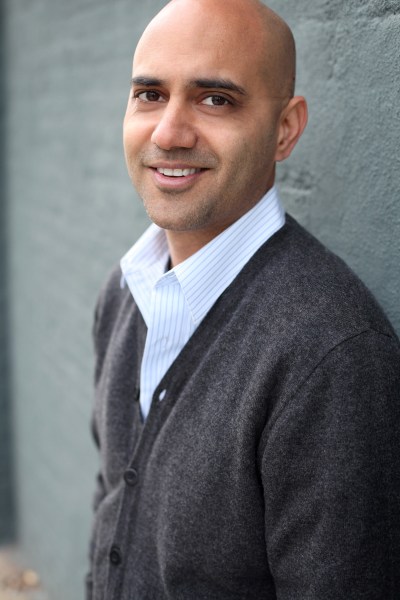 Zarina, who gets the last word—those last four words—in this clash of genders and generations, is proof that Mr. Akhtar had his consciousness raised at an early age.
Writing strong female characters "doesn't come hard to me," the first-generation Muslim-American admitted recently in an interview with The Observer. "Many of the major mentors in my life have been women. I had a sentimental education at the hands of some brilliant, remarkable women, the first being my mom, who has a passion for literature. I think, on an unconscious level, I probably got that from her, but it was not triggered until I met this high school teacher." 
Her name is Diane Doerfler, and they crossed paths his first semester of junior year. "She exposed me to the life of the mind and increased my passion for reading," he said. "That completely changed my life and made me want to become a writer." 
That writer emerged in January 2012, on two different fronts. His debut novel, American Dervish, was published January 9 by Little, Brown, having been snapped up for a high six-figure sum less than 24 hours after its submission. (It's since been published in 21 other languages.) His first play, Disgraced, followed suit January 30, premiering at the American Theater Company in Chicago and then playing Lincoln Center. It won awards at both stops (the Jefferson and the Obie)—plus the 2013 Pulitzer Prize—and subsequently moved onto a London gig and bows on Broadway at the Lyceum.
Success did not come quickly for Mr. Akhtar—he was 41 when the book came out—and it does not seem to have led to any head swelling. "I wanted to be a writer since I was 15, so, by that time," he said, "I had been through so much and taken so many kicks that I was just grateful anyone was paying attention."
He must have smiled wryly at the first line of the New York Times rave: "What a pleasure to encounter a first novel as self-assured and effortlessly told as Ayad Akhtar's 'American Dervish.'" In point of fact, it was actually his second novel. His first, still in manuscript form, occupies a place of pride on a bottom shelf in his office. "It's a 600-page behemoth that took me six years to write," he sighed. "I thought it was a great masterpiece, but it was really not all that good." He showed it to eight friends, and all eight came back with the same review: "Don't show this to anyone else."
So he abandoned that story of a poet-turned-researcher at Goldman Sachs, and wrote about something he knew. American Dervish is a coming-of-age story about growing up Muslim in Milwaukee.
His Pakistani parents were recruited in 1968 to beef up U.S. scientific programs. Both graduated near the top of their classes from the equivalent of Harvard Medical School in Pakistan, and put down roots in Milwaukee. His dad started up a cardiology lab at the University of Wisconsin, and his mom served as a radiologist. "That's where I grew up, in the very conservative and white suburbs," he said. "The people were good, smart, open-hearted. They didn't know where I was from or what it was all about, but, as long as I liked the Green Bay Packers, it was all right."
Mr. Akhtar pretty much pinballed his way through his 20s and 30s in pursuit of a profession. He worked abroad with Polish director Jerzy Grotowski, did acting workshops in New York with Andre Gregory, taught acting, tried to start up a theater company, and studied theater at Brown University and then film at Columbia.
While at Columbia, he had a serious skirmish with screenwriting: "Our thesis film took us eight months to shoot. Principal photography was to last four or five weeks, but we kept reshooting until we found the story we wanted to tell."
The result, The War Within, got national distribution in 2005 and an Independent Spirit Award nomination as Best Screenplay for Mr. Akhtar and two collaborators. He also played the lead role—a conflicted suicide-bomber targeting Grand Central Station.
With the exception of American Dervish, the threat of terrorism looms over his work, including his latest play, The Invisible Hand, which will open at New York Theater Workshop on December 8. It concerns a U.S. trader who is kidnapped by Muslim extremists in Pakistan and uses his financial skills to raise his own ransom.
"A few years after 9/11, I realized there was no way I could avoid—or recreate myself in stark opposition to—what I came from," said Mr. Akhtar. (Therein hangs the conflict of Disgraced.) "I came to understand perhaps that wasn't the best thing to do. Why was I trying to do that? What was I running from? What had I done? 
"That's really when I found this subject. I'd been told, 'Write what you know,' but I thought that meant writing about New York or my friends on Wall Street—not what I really knew: where I came from and what I learned. The truth is that the only way to the universal—at least for me—is in the extreme attention to the particular."
Like they say: God is in the details. "Yes," Mr. Akhtar nodded, "but I thought, 'Not in my details—in somebody else's details.' It's been a long process for me, but it's with this process that I continue to grow as an artist. That's really all I'm striving to do."