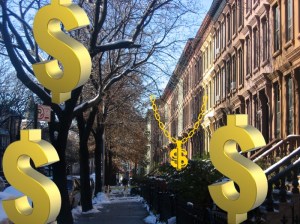 Are you tired of your rent check lining the pockets of some faceless corporation or some slick absentee landlord who just happened to buy in Bed-Stuy in the 1980s? Well, we have some good news. Now, people only significantly richer than you, not even eye-poppingly so, can profit from the rising rents you pay. Maybe you can even start paying your rent to your buddy from U Penn who works in finance! America!
Thanks to CityShares, a new investment platform that buys up multifamily properties in "appreciating," neighborhoods, any accredited investor can try to get in on the always-rising rental prices in New York City. Now those who've recently received a salary over $200,000 per annuum, or have more than $1 million at their disposal outside of the value of a primary residence (parameters decided upon by the Feds), can capitalize further on those poor pitiful wage slaves who became social workers, teachers, civil servants, academics and journalists.
Investing the way, say, an index mutual fund would, in a swath of one market, the CityShare funds will each own a diversified portfolio of mixed-use and multifamily properties in a gentrifying neighborhood.
So far only one fund has launched: CityShares Bedford-Stuyvesant, but more are on their way. In the next couple months, CityShares Harlem hits the market and CityShares Crown Heights is set for the fall. CityShares Bushwick is planned for later this fall, according to Seth Weissman, founder and CEO of CityShares.
The company will keep its properties for at least seven years, in order to maximize value, according to a statement from the firm. CityShares is raising the funds to buy buildings and has yet to close on any properties.
And looking at prices for residential real estate in New York City over the last 20 years, it's easy to see how investing in a CityShares fund could net you serious dough—perhaps more than, and more reliably than, stashing that money in a more traditional index fund investing in something like stocks.
As Mr. Weissman points out, the average price per square foot in Tribeca now stands $1,569, which is up almost nine-fold from the equivalent figure 20 years ago: $182 per square foot. And New Yorkers are perennially moaning about having not gotten in on that.
"We tapped into a universal cocktail party conversation," says Mr. Weissman. "Everybody seems to have that story of an Aunt or Uncle," who bought at the right time. Why let Murray and Edith have all the fun?
Why, indeed? Of course, the fun stops if you end up a de facto slumlord. And many fledgling investors might have qualms about investing in transitional neighborhoods without some assurances that CityShares intends to act ethically.
Mr. Weissman says not to worry. While investors in CityShares won't have any say in how buildings are managed, they will either be managed by the firm or a company selected by them, with an eye to maintaining relations with the surrounding community. For those needing further assurance, Mr. Weissman himself is the recipient of humanitarian awards, has served on his local Community Board 4, in Manhattan, for years, and was named to a 2011 Observer list of Top 50 "Power Gays." He is also no stranger to real estate investment, having run Weissman Equities, which owns and operates among other properties, the Fire Island Pines Hotel on Long Island.
Investors in his latest venture will get quarterly dividends as well as distributions from refinancings and, of course, the eventual sale of the buildings.
So, ok, maybe this whole thing sounds like a pretty good idea. Instead of massive REITs and private equity funds buying up apartments—a push they began several years ago when the recession turned many Americans back into renters—smaller investors can theoretically get a piece of the multifamily pie.
"It's an asset class that [smaller investors] otherwise wouldn't have access to," Mr. Weissman says. And he points out that many smaller investors want exposure to real estate without the bother of being a landlord, a vocation even class warrior real estate reporters can sympathize with, given the minefield of regulations and worries that can come with it.
So it's all well and good for the wealthy if not superwealthy among us—unless, of course, there's a bubble, and it pops.
Alas, there are plenty in New York for whom the term "accredited investor," seems as unattainable as a condo at One57. But, it's America. We can dream.