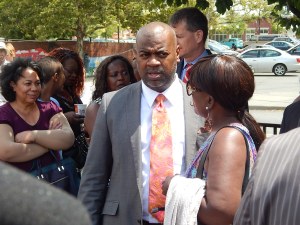 JERSEY CITY – Standing on MLK Boulevard, Newark Mayor Ras Baraka responded today to Gov. Chris Christie's comments at a Republican Governors' Association (RGA) meeting last week.
Channelling former President George W. Bush, Christie boasted to other Republicans that he is "the decider" on whether or not Cami Anderson remains as Newark's superintendent.
Baraka wants her gone.
Christie wants her to stay on the job.
"I don't want to get into whether or not he said it," Baraka told PolitickerNJ. "But he's right. The state gets to decide. I just wish they'd begin to decide differently."