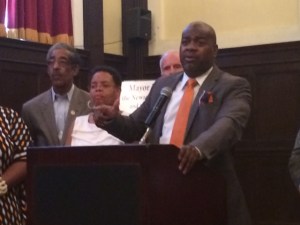 NEWARK – Newark Mayor Ras Baraka referred to one of America's greatest civil rights heroes when asked how he would negotiate with Gov. Chris Christie for additional state aid.
"We're going to do a little Martin Luther King [Jr.] – we're going to wear him down with love," said Baraka to a crowd of about 100 people on Wednesday, while at the Newark Public Library to discuss the administration's transition team report outlining Baraka's first 100-day plan for Newark. "We're going to wear him down with that. At the end of the day, we're just trying to improve the city. There is nothing political about what we're trying to do here."
Baraka's comments came days after Christie publicly stated that he's "not making any commitment" to providing additional aid — specifically in monetary form — to the state's largest city. Newark is facing a $93 million budget deficit.
"I think the state is obligated to every resident, every business, everybody that invests in the state of New Jersey," Baraka added. "The job of the governor is like the job of the mayor. I improve the city of Newark, and he improves the state of New Jersey. I don't see how those things are mutually exclusive. I think that they exist together. So ultimately, in order for the state to move forward, Newark has to move forward, and for Newark to move forward, the state has to move forward. The state's [$1 billion budget] deficit is Newark's deficit, and vice versa."