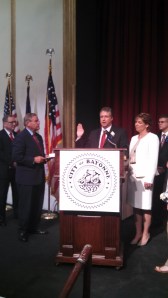 By Chase Brush
BAYONNE – Flanked by friends and family here in the auditorium at Bayonne High School, U.S. Sen. Bob Menendez (D-NJ) swore in mayor-elect James "Jimmy" Davis today in front of an audience of elated onlookers.
"I'm thrilled to be here today because a new day dawns on Bayonne and it's a day of hope and opportunity," Menendez said in his tribute to the Bayonne native, who, after a whirlwind election last month that saw the demise of incumbent Mayor Mark Smith, took office today.
Conducted in a style uniquely characteristic of the 3-square miles, 65,000 resident peninsula city, there was certainly no shortage of love for the former police captain-turned Hudson County hero throughout the day's events. The ceremony began with a 10 a.m. mass at the Catholic Church across the street and soon migrated into the auditorium, where bagpipes and rolling drums kicked off the official proceedings.
There was also no shortage of political muscle, with seemingly all of Hudson County's political heavyweights — from Menendez and U.S. Congressman Albio Sires (D-8) to Assembly Speaker Vinny Prieto (D-32) and state senators Nike Sacco, Sandra Bolden-Cunningham, and, hiding in the audience, Ray Lesniak — in attendance.
For his part, Davis had one overarching message for his supporters: "The time for campaigning is over. The time for governing is now."
"Today I placed my hand on the bible, took a sworn oath and committed myself to providing good, honest, and open government for the city of Bayonne," Davis declared in his inaugural speech. "My message today is straight forward — it's time to unify Bayonne."
He harkened back to his days on the Bayonne police force for inspiration, where he served for 28-years before stepping up to run for the city's top post.
"During that time I had the chance to experience the best and worst of humanity. I assure you — there are more happy memories than sad, because the residents of Bayonne have a special spirit," he said.
But he didn't forget to thank those who, behind the scenes, helped prod him to victory.
"When it comes to fighting for funding for transportation dollars, homeland security money, or resources for our police, fire and public schools, nobody does more for the city of Bayonne than Bob Menendez," Davis said. "He often says that we, here, in Hudson County stand behind Lady Liberty. Well it's also true that we, here, in Hudson County stand behind Senator Menendez, because for us, he is much like Lady Liberty, he is our beacon of hope."
Menendez later returned the favor.
"As he said, one cannot achieve the goals and the aspirations of the tens and thousands of people in the city of Bayonne by themselves. They need the help of every citizen — our participation doesn't end on election day, it is only the beginning. And as far as that goes I want you to know you have a friend in the United States Senate."