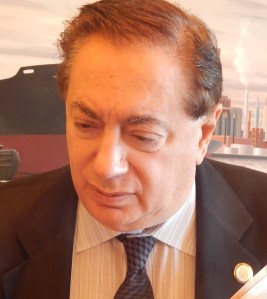 By Chase Brush
BAYONNE – Almost a full month after the election, state Sen. and North Bergen Mayor Nick Sacco still thinks the race between mayor-elect Jimmy Davis and ousted-incumbent Mark Smith was "predictable."
The North Jersey political boss further reiterated and elaborated on an article PolitickerNJ ran last month, which quoted Sacco talking about the Bayonne mayoral runoff election two weeks after Davis claimed victory.
"After the election, I was asked if I was surprised, and if you read the article you know I said it was predictable," said Sacco, who spoke at Davis' swearing-in ceremony today in the peninsula city. "And why was it predictable? You take on the teachers for four years and go into an election. You take on the rent controlled tenants and fight them right up to election day. You really leave a community out there feeling disenfranchised and that's not including Latinos which represent about 30 percent of the population. And you put all of it together and things start happening, a feeling grows, a sense of victory is in the air. And then the weather is beautiful and that's great when you're out there campaigning."
Earlier in his tribute, Sacco recalled meeting Davis, whom he called "likable" and "sincere."
Sacco wasn't the only powerful Hudson County chieftain in the room — U.S. Sen. Bob Menendez was, too, along with U.S. Rep. Albio Sires (D-8), Assembly Speaker Vinny Prieto (D-32), and state Sen. Sandra Bolden-Cunningham (D-31) — but he was one of the most eager to shower praise on the former Bayonne police chief.
"I met Jimmy Davis when he was up and coming and wanting to run for mayor and I took an immediate liking to him," Sacco said. "He was not only likable but sincere, loved his community, and had a toughness to him that I could just sense was there. And then I watched him assemble a team of really skilled people who would represent their areas and represent the entire town of Bayonne."
Davis surprised area politickers last month when he stole the scepter from Jersey City Mayor Fulop-backed Smith, whose re-election many took for granted. On the night of the runoff, Davis supporters gathered on the sidewalk of the campaign's makeshift headquarters at San Vito restaurant awaiting the unspeakable.
Their candidate had won.
"Those people, who stood outside that restaurant crying and laughing for you — it was their victory," said Cunningham.