Over the last several years, I've done dozens of book launches. Among those launches I've had the privilege of working with or seeing authors on nearly every major media outlet, mainstream or otherwise, and tried just about every marketing trick in the book. I've worked on campaigns for books through my marketing company, Brass Check, that sold millions of copies, hit #1 on the New York Times list (home runs) and plenty of other singles, doubles and triples (I admit to strike outs as well).
In between these launches, I've written and released three books under my own name with Penguin. I'm telling you all this not to brag but as a way of saying this: a lot of people in publishing have been looking very hard for marketing steroids for a long time and we've chased a lot of leads. First it was Twitter, then it was Amazon, then it was email, then it was blogs. I may have accidentally stumbled on a new one…and at the time I didn't think I was making a marketing decision at all.
It turns out that the single most important marketing decision for me came when I didn't feel like I was making a marketing decision at all.
It started during a late night conversation in Amsterdam when I handed Tim Ferriss a copy of the book that I was working on. This book, which I had sold to my publisher Portfolio/Penguin the year before, was about Roman Stoicism, an ancient practical philosophy that I think lends itself well to the entrepreneurial, creative and business worlds. From that conversation came a remarkable inquiry from Tim:
What would I think about him publishing the audiobook under his new imprint, and featuring the book as part of the book club he was starting?
It took some convincing of my publishers in the US and UK (who owned the rights and were reluctant at first to experiment this way) but eventually the deal happened. And it turns out that this little decision was probably the single biggest direct driver of book sales that I have had in my career.
In other words, I have seen the Tim Ferriss Effect and it is real.
Let me take you behind the scenes of that collaboration and launch—numbers and all. This is for the curious, the about-to-be first time writer, and every author out there looking for some untraditional ways to put their book in front of readers.
-Our excellent mutual book agent, Steve Hanselman of Level5 Media, helped negotiate the deal points with Penguin. To me it was a relatively simple deal: a guy with a massive, hyper-engaged audience and a personal belief in the book's topic wanted to do more than just promote it, he wanted to be an actual partner in publishing it. The structure of the deal itself was similar to traditional audiobook deals (advance, royalties, etc., which made the deal palatable to a Big-6 publisher), but it was the marketing machinery that Tim offered that others couldn't match. It was the book-world equivalent of a startup offering particularly generous terms to an angel investor who also agrees to be an advisor to the company.
-Why a book about Stoicism? Well, because that's the book I was motivated to write. But very early on I had to make a decision, one that would impact sales in a major way. I decided this would not be a book about philosophy, because no one wakes up and says, "I need philosophy today." Instead, they wake up with problems they need solutions to. I tried to make this book the latter more than the former and so far it has paid off with word of mouth referrals.
-I recorded the book in March over three days at the The Block House in Austin which Tim's team was able to set up in a matter of hours. The recording studio was actually in the engineer's house. I did my reading in a comfy soundproof closet.
-An embarrassing admission: as a self-taught writer there are many words in the book that I had written but never pronounced before. I actually had this conversation with an employee: "I really need you to go through the book and find every big word that you think a 7th grader would have trouble pronouncing and give me the correct way to say it….but not even in that complicated phonetic dictionary…spell out the sounds for me." He did a great job (e.g. Satyagraha=Sah-tia-grah-ha, Amor Fati=UH-more FAH-tee, Vire acquirit eundo: VEE-reh Ahk-EE-riht eh-YOUHN-do, and Enchiridion: En-keyre-rih-dee-on) and it made the reading much easier and faster. This is especially important with names—you don't want to get them wrong!
-Tim and I remotely recorded a two-hour podcast supplement that was attached at the back of the book as a bonus. It also turned out to be a great marketing piece as Tim launched his podcast the week before the launch of the book.
-Tim and I used multiple social broadcasts of the podcast via Facebook and Twitter to get it in front of as many viewers as possible, like the tweet below. I blogged about it and so did he.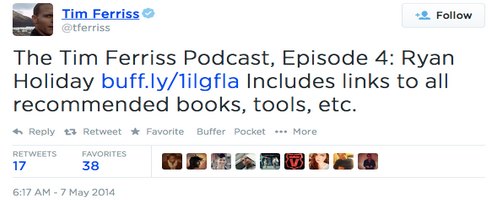 -His efforts worked and the podcast was downloaded more than 100K times right off the bat, at a time when Tim's podcast had reached the top 10 across all of iTunes, where is still stays 90+% of the time. All it took was a $30 mic plugged into my Mac Desktop.
-I've done a lot of media over the years but I have never received as many emails from an appearance as I did from Tim's podcast. And they were all so nice! Unusual for the trench warfare that is the Internet.
-I stole another idea from Tim when I decided to write my "Call To Arms" post, asking for marketing ideas from my readers about two and a half months before launch week. I felt doing this made perfect sense because The Obstacle Is The Way is such a departure from my previous two books, which dealt with media manipulation and marketing, and it is very similar to what I had been writing and thinking about along with my readers on my blog for the past six years or so. I used a simple, free Wufoo form and asked readers to submit their name, email, their relationship with the media outlet and how big it was, as well as specifically how they could help.  My readers had a lot of great ideas, leading to some guest posts and podcast interviews, an invitation to speak at Google, and even an offer to introduce the book to staffers at the White House.
-I will say if I was evaluating my ROI on efforts for this launch, I probably agreed to do too many podcasts. Unlike blogs, it's very difficult to judge the size of the audience of a show. I decided to pre-record most of the shows I was on and so early in the launch, I agreed to be on pretty much every show that asked. While this was fun and I am grateful for the opportunities, I ended up spending dozens of hours recording these shows, all of which required me to be at home or in front of a computer. The effect it had on sales, I cannot say.
-Speaking of mistakes, I'm somewhat embarrassed that I forgot about the service Thunderclap, which allows you to coordinate Twitter and Facebook blasts from friends and supporters. I ended up doing it old school and asked friends with large followings to mention the book on launch day. I would have been far better off getting these commitments locked down with a service like that.
-I don't know if Tim invented the pre-order campaign but I can tell you it's now an industry-standard event widely credited to him by people in publishing. Basically, preorders are important because it gives book buyers at the major chains an idea of the demand of the book. (If Amazon has a lot of pre-orders, it means the reps can convince B&N or Books A Million to support it in a big way). These orders also count for your first week sales. As a result, I did a pre-order campaign for The Obstacle Is The Way that included bonuses like a "Mastery of Marketing Reading List," personalized reading recommendations, a private webinar, and one-on-one consulting calls. For people who bought 5 copies, I actually mailed them a note card I'd used to research and write the book. I sent out a dedicated email blast to my Reading Newsletter email list one month before the book launch. Then in my regular recommendation email three weeks later I included a follow up mention of the campaign at the beginning of the email. I also opened up the offer to the readers of my blog, of course after giving my subscribers the first crack at the limited bonuses. I ended up selling over 2,000 copies through this campaign, which meant the book was well on its way to success right out of the gate.
–Tim Ferriss Book Club buyers buy multiple books and clearly boost sales. Check this out—all the commonly bought together books here are in Tim's book club. In this case, The Obstacle Is The Way, The Art of Learning, and Daily Rituals: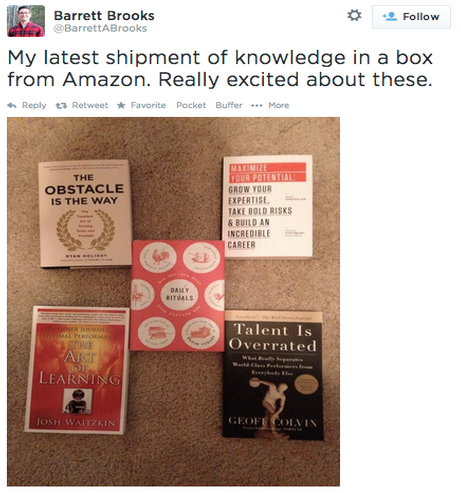 -I wanted to capitalize on the attention I knew being in the book club would bring, so I decided to pour kerosene on the fire and partner with Bittorrent to create a book bundle with a ton a free content, including the first chapter of the book, the preface to the audiobook, and images of the research note cards I used to make the book. The results were amazing: 1.89 million page views, 387,000+ downloads and 5,300 emails collected for my book list. Obviously this is not our first go-around with Bittorrent, we learned about it's power back with Tim's massive 4-Hour Chef launch.
-I think content marketing is important for launching a book—it's like a little taste of what's between the covers. So I agreed to write a dozen or so articles for publication during launch week, including Cracked (which did 430,000 views), Fast Company, Art of Manliness, Copyblogger, Huffington Post, Entrepreneur.com, 800-CEO-READ, Thought Catalog, Upstart Business Journal, Psychology Today, and Medium. When doing content marketing and media for a book, you want to aim for what Tim calls the "surround sound effect", so that the launch was more like an event on the web, you want people to not be able to not see it.

-To support this I worked with my friends at Fortier Public Relations (who have also worked on Tim's book). In addition to helping secure some of the outlets who published my writing (like Entrepreneur.com and Psych Today), they also landed me interviews with dozens of radio programs like Something You Should Know Radio, A Closer Look Radio, Business Insanity Talk Radio, Intrepid Radio, traditional media like Good Day Austin (FOX-TV), and other media hits. I hired Fortier for just 30 days, in my opinion this was the minimum effective dose. I got all the pitching and support in a concentrated window—instead of paying for a month before or a month after where output would have been slow.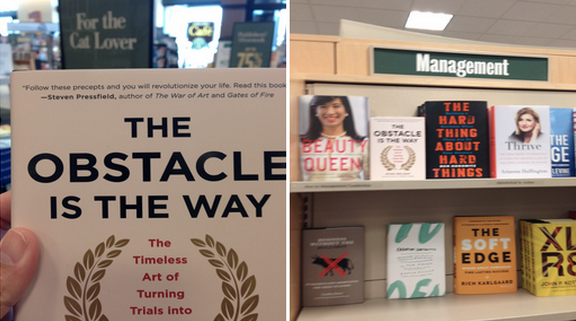 -My publisher (and Tim's partners) bought "co-op" placement for the book in two places in the US: Barnes and Noble and Hudson's Booksellers (at airports). It was very critical to us that we get on what's called the "Dads & Grads" table at the front of these stores. In the UK, the publisher bought placement at WH Smith, specifically at Heathrow Airport. Co-op certainly moves books in stores, but it is also a form of advertising for a book. These viewers could have ultimately bought in many different formats, including audio.
-I also created three Slideshares for The Obstacle Is The Way to show people what the book was all about and get it attention on a huge platform. I wrote the scripts for the content and then hired a designer to create them (if you don't have a designer, I suggest using 99Designs to find one). So far the three Slideshares have gotten a combined 550,000+ views, which is an amazing reach.
-All this kind of PR adds up, ideally, to earned media down the road. For instance, more recently the book was named to the Washington Post's list of summer leadership reads and to Gear Patrol's best summer books list. With any luck, these will continue to trickle in over time.
-Just like with Trust Me, I'm Lying, I knew I wanted to do a book trailer, but this time I upped my game and did two. I again used Simplifilm, where I'm also an advisor, and my publisher Penguin was generous enough to fund the venture. The first trailer for the book explains the idea behind the book through the metaphor of mixed martial arts, and the second trailer tells the story of Ulysses S. Grant's tenacity at the Battle of Vicksburg (which is from the book). Your book trailer should not feel like an ad. It should be good enough content to stand on its own.
-We also participated in the Amazon Vine program, which is where the publisher sends 25 or so copies to advance readers handpicked by Amazon. The book ended up receiving 19 Amazon Vine reviews, almost all of which were 5 Stars and were up before the day of release (only Amazon Vine reviews are visible pre-publication). There was one negative review from a troll who totally missed the point of the book. In 2014, I think Amazon reviews matter more than professional book reviewers. And yet…most authors don't have any reviews of their book until a week or so after their launch, meaning the main landing page potential customers see is essentially blank!
-Goodreads is also very important. With Goodreads we gave away 15 signed copies of the book and had 331 entrants. If you're an author that wants to get your book on Goodreads, here is how you get started with their Author Program.
-Another way I got some unconventional attention for The Obstacle Is The Way was by doing two Reddit AMA's, one in the usual /r/IamA subreddit and another in /r/Stoicism. I love talking to my fans and AMA's are a great way to interact with them and also introduce my work to new people. The two AMA's got a total of 410 comments and 215 points on Reddit and I also added 112 emails to my reading list from a giveaway I did in conjunction with the AMA.
-Aside from haters, I'll tell you the one thing that authors waste the most time on: book blurbs. Have you ever bought a book because of a blurb? Probably not, yet people spend immense amounts of efforts chasing down totally unrealistic figures to blurb their books. In my experience, asking someone to blurb your book feels like a huge favor to the person being asked, but does surprisingly little for the person asking. Putting my money where my mouth is, I didn't ask Tim to blurb this book. Instead, I asked him to publish it. See what I mean? Sometimes you only get one shot, so don't waste it on a trivial request.
-All that being said, I am very proud of the blurbs I did get. I was able to get Steven Pressfield for the cover because I am close with his editor and his agent (and I paid my dues too, writing about his last book for Forbes and recommending it to my email list). I picked Robert Greene for the back cover, since he is a mentor of mine. I also wanted to make sure I have at least two female blurbers and a mix of doers vs writers (that's why there is a Judge on there). I think these blurbs made a difference, but again, only at the margins.
-Price, on the other hand, had a huge tangible impact. See, price and discovery are a function of each other. People are willing to take chances on cheaper books. Which is why I worked really hard with my publisher to see if we could do a temporary discount on the ebook across all vendors sometime after the launch. When it would be, I didn't know. But I knew at $3.99 (a 60% discount off the retail price) it would bring a rush of new readers in and send it to the top of Amazon bestseller lists.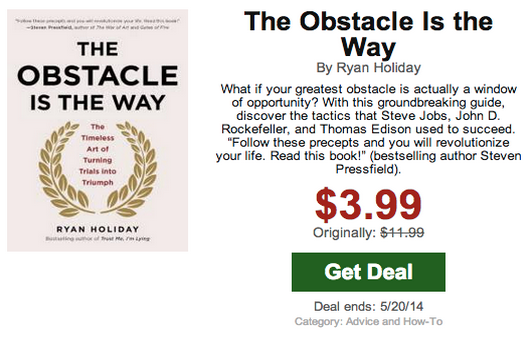 -I wanted to supercharge that discount though.  So we partnered with Bookbub.com (I credit Tim Grahl for the idea), a huge site that does just one thing: recommend great deals on ebooks to over three million email subscribers. You can submit your book for free and if it is selected, Bookbub invoices you based on the price and category of the book (for me it was $850.00). We also got the book featured on The Fussy Librarian recommendation email which goes out to over 13,000 subscribers and it only cost $3! I also posted the discount to the Reddit subreddit /r/eBookDeals. These email blasts were like throwing gasoline on a fire—in fact in that week, ebook sales nearly tripled. Another reason: it allowed Tim's readers to capitalize on the low price of the ebook ($3.99) if they wanted a digital copy in addition to the audiobook.
-All told in the first six weeks The Obstacle Is The Way has sold 27,545 copies in the US and the UK, with nearly 7,000 of those coming as US hardcover sales. More impressive though is the fact that the audiobook has sold 4,548 copies (which is unheard of!). And six thousand copies (print and digital) were sold in the UK. We also made the audiobook available on Gumroad because its more of a direct point of sale, but it didn't sell very many copies, most likely because Audible is so easy and people are conditioned to buying from that platform. (NOTE: These were sales from the first six weeks only and hardcover units are only from BookScan which captures about 70% of retail sales. It's continued to sell quite well since)
-Another fun part of selling on Amazon is affiliate links. I sold 1,122 copies through my own affiliate link for a few thousand dollars in extra royalties, plus commissions on all the other things those readers bought.
-There is only one reason to do book signings: for fun. I did three with this book. One in Austin, where I live as well as in New Orleans and Los Angeles, where I used to live and have a lot of friends and colleagues. It's great to meet fans, do a little talk and then go out to a bar after. Collectively, these appearances probably moved less than 250 books—so again, not worth it for the raw numbers but great for other reasons (it can also be an excuse to do local media in a city you aren't often in).
-Speaking on the other hand, can move a lot of units (as well as being financially lucrative). For this book, I arranged a handful of gigs, some paid, some done as barter for copies purchased. I spoke at Marketing Rockstars Austria, The School of Life in London, Google Create UK, Authors at Google LA,  Vivid Sydney, Cadre's Youniverstiy, and Mastermind Talks 2014. I also was honored to do a TED talk at TEDx UChicago, which was an amazing experience, and allowed me to get a video up on Youtube explaining the book to a whole new audience.
-Ultimately The Obstacle Is The Way sold more than enough copies to make the New York Times bestseller list in week one, two and probably week three, as well as their monthly business book list, but because of the editorialized nature of the beast the book didn't hit the list. Tim wrote a great piece about how bestseller lists work (or rather don't work) and the Times is more of a survey of certain retailers they choose to get reports from (think independent bookstores). So I knew all of this going in and decided not to focus on something that was out of my control (hitting an arbitrary list) and instead focus on long-term strategy and tactics, which I think I've succeed at.
-I will say this: just because I wasn't aiming for it, doesn't mean it didn't hurt like hell when I missed it. In fact, I was initially angry. Thankfully my expectations had been managed but still…I had to remind myself: the effort has to be enough. As creatives, we cannot allow external results to determine the value of our work. We can't allow arbitrary lists to influence our happiness or self-worth. These little moments—injustices, slights, disappointments—are what stoicism are designed for. It's the perfect opportunity for philosophy.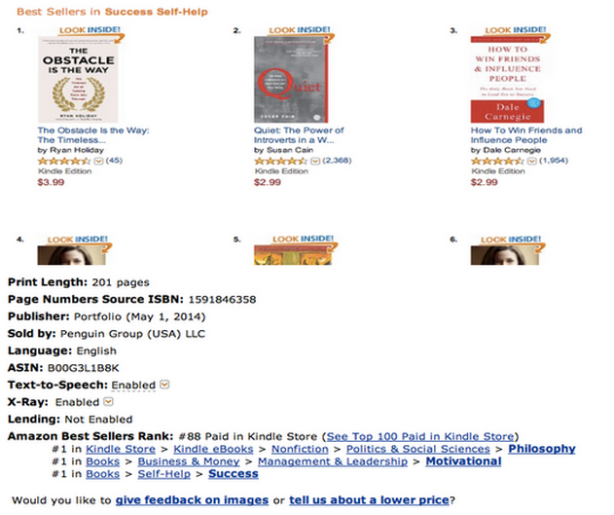 -And another fun note on bestseller lists, while I may have missed the NYT "Editor's Choice" List (as the bestseller list should be more accurately called), I did in fact hit #1 in multiple Amazon categories including Philosophy, Self-help/Success and Management & Leadership/Motivational. In fact, even today nearly two months after launch, the book is still #1 in the Kindle Store in Business Life/Motivation & Self-Improvement and Management & Leadership/Motivational. This is great—but I also have to remind myself that it doesn't matter. It's nice, but not necessary.
-Some authors are so intent on hitting the bestseller lists that they focus exclusively on US sales. I think it's much better to think internationally—not only can readers in any country import books these days, but making a splash in small markets can lead to foreign rights inquiries. I credit Tim's international reach with part of this, plus the reach of my reading list, but the rights to The Obstacle is the Way have now already been sold in seven territories/languages including Arabic, Turkish, Thai and Mandarin. I love the idea of philosophy being borderless and universal.
-Today I got news from the publisher that based on sales thus far, they've decided it warrants an extended run in hardcover (as opposed to immediately publishing a paperback). For reference, The 4-Hour Workweek is a book that has had an unprecedented run in hardcover—now seven plus years sales where have not dipped enough to require moving to a lower price, paperback edition. Part of the reason I think this has happened is that very early on in the publication process, I went to bat asking for a lower hardcover price. I wanted it to be as affordable as possible for readers and lend itself to impulse purchases without seeming like low quality. Also keep in mind, would-be authors, that paperback per-copy royalties can be half (or less) of hardcover.  That means you have to sell TWICE as many paperback copies to earn what you'd already be making on hardcover.
Conclusion:
One of the questions I often ask authors—particularly authors from genres different than mine—is this: what single thing moved the most books for you?
Of course, as you can see from the list above, many different things moved the needle for me and—cumulatively—that is what added up to the book's success. That being said, I can still easily answer the question: Publishing the audiobook with Tim was not only the single biggest mover of books for The Obstacle Is The Way, it was one of the biggest single movers of books I've seen to date, period.
And that's how it goes doesn't it?
Despite being a professional book marketer, the best marketing decision I made didn't even register as a marketing decision at the time. The thing that required only a little bit of work—that felt like a fun, collaborative thing to do—ended up moving more copies than other parts of the campaign which were assembled with painstaking effort or significant expense.
To me that's both very humbling and incredibly exciting.
Ryan Holiday is the editor-at-large of Betabeat.com and also runs a book advising marketing firm called Brass Check.