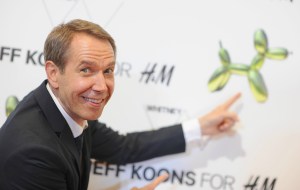 It may be hard to believe, but there was a time before "Jeff Koons: A Retrospective," currently on view at the Whitney Museum. This epoch of total darkness and depravity—Before Koons (B.K.)—has been supplanted by the era of enlightenment, herewith known as After Koons. (A.K.)
What can we expect from the A.K. period? Gaze at Fifth Avenue and 48th Street, just a block away from Jeff Koons' flowering Split-Rocker installation at 30 Rock, where two gigantic photographs of Mr. Koons' gold Balloon Dog covered the two five-story windows of H&M's new flagship store, which is set to open this week. Tuesday night, the dogs glowed like beacons, as hundreds of prospective shoppers battled the rain to reach the launch party for Mr. Koons' limited-edition Balloon Dog handbag, a black leather rectangle ("real leather," as the price tag boasts) with an image of Mr. Koons' iconic sculpture printed on the side. It's selling for $49.95—pricy for the Swedish retailer, but not compared to the work's actual cost of $58.4 million. Look upon Koons' works, ye Mighty, and despair!
On one end of H&M's lobby was a red carpet, on the other, a stage where the U.K. pop star Birdy would make a surprise performance later in the night. Above the stage, a four-story screen showed a red cloth unveiling Balloon Dog on a loop, with H&M's slogan for the event, "Fashion Loves Art," flashing in loud white letters. (Fashion hated—just hated—art B.K.) Mannequins were lined up like soldiers on staircase-shaped display stands that towered over party-goers. The Koons bags were scattered about the space, which was designed to resemble a museum but ended up looking more like an oversized Apple Store. This, one can only imagine, is what the Tomb of Koons will eventually look like: a large Midtown retailer filled with artistic handbags.
When Mr. Koons arrived, he snaked his way from the red carpet up to the second-floor balcony where he surveyed the masses below and signed bags from behind a silver-roped barrier. He posed for pictures with his followers (Koonsites), like actor Ashley Benson, who is known for her lead roles in the TV melodrama Pretty Little Liars and Harmony Korine's outrageous film Spring Breakers. He took selfies with MoMA PS1 director Klaus Biesenbach.
The uninitiated clamored to meet the artist. "Jeff, will you take a selfie with me!" a burly man gushed. Mr. Koons moved to the edge of the rope and kindly obliged. Of course he did. Still, this was not the type of scene you would have gotten at the Whitney. Take, for instance, the two women with shopping bags, gravitating toward the Koons posse.
"Is that him?" one woman asked the other. "Is that Jeff Koons?"
"I'm not sure," her friend replied. "I don't know what he looks like."
He shall raise you up, ladies! Up, up from your ignorance!
Some were there to party, swaying their hips to throbbing house music with pale pink drinks in hand. Others were in die-hard shopping mode. It was not uncommon to see a guest unloading mountains of bright polyester onto the registers of wide-eyed, overwhelmed clerks. One sympathizes.
The atmosphere was stylish, but not snooty, which apparently is what Mr. Koons was going for when he decided to partner with H&M. "We were talking to different sponsors, and one of the things we really liked about H&M is that it's very democratic," Adam Weinberg told us, director of the Whitney.
Scott Rothkopf, the curator of Mr. Koons' retrospective, echoed Mr. Weinberg. "People like to speak about Jeff's market as being so high, but on the other hand he's someone who's enjoyed and admired by a very broad audience," he said. "It's a paradox in his work, but it's part of what is interesting to me about what he does."
Mr. Biesenbach was also on board: "I love Jeff Koons working with Lady Gaga and working with H&M," said Mr. Biesenbach. "In a certain way, it is what his work deals with naturally. It makes complete sense."
Always a man of the people, Mr. Koons signed almost every purse and scrap of paper pushed at him throughout the night. A woman in a black silky baseball cap and short black pigtails held out a Sharpie and her white iPhone to Mr. Koons. "Will you sign it?" she squealed. He traced a 'J' before he looked up at the woman and said apologetically, "I'm sorry, it's just not working."