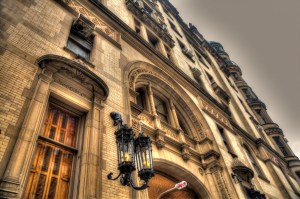 There is a moment in most New York City apartment hunts in which people either realize that A.) the broker is trying to cheat them or B.) the broker is totally competent/fine/great, it's just the entire rental market that is trying to cheat them.
The latter has been well-established/acknowledged as a rather sad fact of life here—in New York you will not only pay more and get less than essentially anywhere else in the country, but staying in one's apartment requires paying more and more and more. How is it, after all, that the average Clinton Hill studio is now renting for just over $2,000 a month?
The question, however, of where and how bad brokers learn their terrible techniques, has remained something of a mystery.
Until today, that is, when the Guardian published some juicy bits of a guide for new brokers from an undiscolosed brokerage (we guess this was a condition of sharing it?) that indicates the provenance of at least some of those terrible lines and techniques.
Among the best/worst tips and advice:
For persuading customers that you have/this is the apartment they want, even when it's not:
"For all studios ads put 'One bedroom' in the box and then specify that apartment is a studio, or alcove in the title of body of the ad."
Brag about the "real-size rooms" or that "This is a TV apartment."
Also, "This studio is bigger than any one-bedroom for this price." Related, "That is the biggest place I have seen for that price."
Or this: "I have not seen that one, but all the agents are going crazy over it so I advertised it."
And this: "For every great apartment there are five to 10 people you are competing against who want it!"
When they refuse to believe you:
"All apartments are basically four walls."
"A studio is a studio is a studio."
And our personal favorite: "Most people are not going to be home that much to begin with."
General good advice:
"You cannot climb the ladder of success dressed in the costume of failure."
And last but not least: "Please do not date clients until after we rent them and collect the broker's fee."