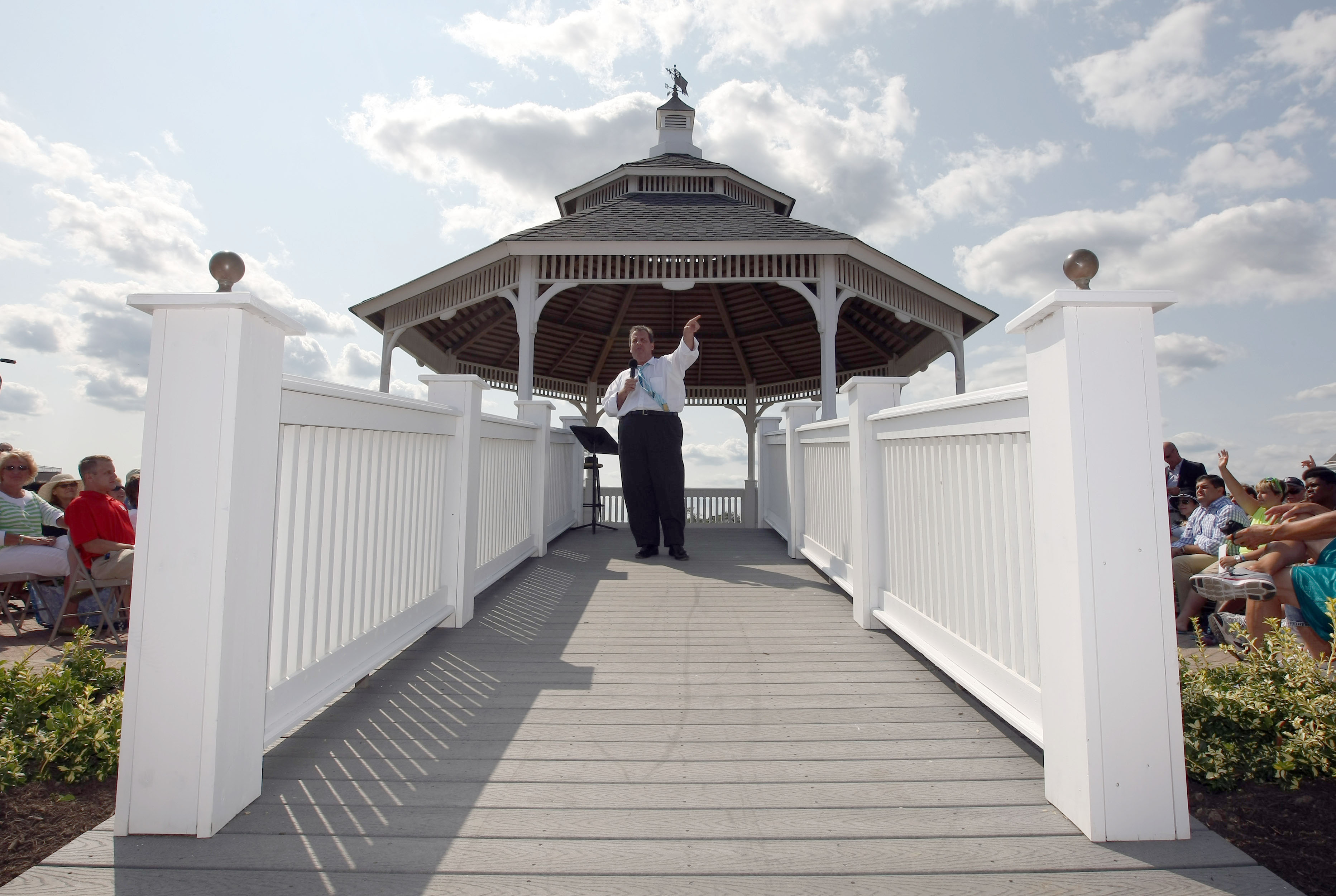 BELMAR – Though he might have tried to avoid it — he began the event acknowledging the issue but quickly shifted gears — Gov. Chris Christie found himself defending a decision to cut from the state's public pension system here today.
"I'm concerned if you now want to have no new people come in and pay the pension, what's going to happen to people like me, who have been paying it our entire lives?," a town hall attendee asked the governor in Belmar this afternoon. "What's going to happen to new people not paying into the pension, where is the money going to come from?"
Christie acknowledged that the pension system — currently carrying $80 billion, he said — is underfunded, but argued that he's "put more money into the pension system than any governor in the history of the state."
"The fact is that promises were made by folks over the course of the years in terms of benefits that would be paid out of the pension system that were never paid for," he said. "And you're right — there were governors who over long periods of time paid nothing into the pension systems."
Christie has been lately criticized by Democrats in the state for opting to slash what they see as much needed contributions to the state's public pension system as he tries to plug a nearly $1 billion budget shortfall. After signing historic pension reform legislation in 2011 that promised to make the necessary contributions to the system through 2017, Christie cut 2.4 billion from this year's payment.
Democrats in Trenton had hoped to make up for the deficit by implementing a millionaires tax, but Christie vetoed the provision from the proposed budget last month.
Today, he defended his choice once again.
"So there's a lot of emotion that goes along with this issue but the facts are pretty simple. The facts are that this pension will go bankrupt if we don't make significant changes to it," he said. "And the absolute proof of that is to watch what's going on in Detroit. In the city of Detroit, the city went bankrupt with $11 billion in debt and $2 billion in cash. Of the $11 billion in debt, $9 billion was for retiree pension and retiree health care. Next year in New Jersey for the first time in our history we are paying more in health care premiums for retirees than we pay for active employees. The fact is that this is just not a sustainable system over the long haul."
Christie said he plans on putting forward a proposal in the fall to deal with the issue, but could not promise, as per the woman's follow-up question, if the payments for employees currently in the system would not be cut. "Anybody who says they can is lying to you," he said.
"The fact is for you, if you're already retired, there's plenty of money, a billion dollars in the fund, there's plenty of money that you're going to be paid what your were promised from now until the end. But the fact is that the people who are in the system now, if I were to tell them that they are garunteed to get the payments promised, I would be lying," he said.
Asked if he knew about the unfunded liablities and state of the pension system before he took office, Christie said he didn't realize the problem was "this significant."
"A lot of different stuff was being mucked around before I came into office, and the truth is that your weren't toold the truth, nor were most other people in New Jersey," he said. "Folks want to believe that just because they were given some happy talk that the problem didn't exist — the problem did exist, and I wish I knew about it beforehand. But now that I'm here, I'm not going to back off about it, I'm not going to be quiet about it, I'm not going to pretend it's not here, and I'm not going to tell you everything is going to be OK.
"The only way everything is going to be OK is if we step up and deal with the problem like adults," he added.