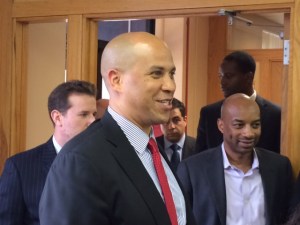 MONTCLAIR – Bergen County native U.S. Senator Cory Booker (D-NJ) paused from speaking out in favor of a bill seeking to reverse the Supreme Court's decision in the Hobby Lobby case to look homeward to the 2014 Bergen County Executive's race.
Democratic Bergen County Freeholder Jim Tedesco, Paramus' former mayor, is challenging Republican incumbent Bergen County Executive Kathleen Donovan in November to be the chief executive of New Jersey's most populous county, often the bellwether county in statewide elections.
When asked by PolitickerNJ.com what Booker can really do for Tedesco besides being on top of the Bergen ballot as part of his U.S. Senate reelection bid against GOP challenger Jeff Bell, Booker made it plain that he was down with Tedesco.
"Bergen County is such a critical county for [Democrats], for Tedesco, all the way up and down the ticket. This is my home county. We have a lot to prove," said Booker, 45, who grew up in Harrington Park and graduated from Northern Valley Regional High School at Old Tappan. "I'm going to come in very hard [for Jim Tedesco]."
Booker noted that he was willing to knock on doors, help with organization, and raise resources for Tedesco. It is the fundraising component that could be the most significant for Tedesco.
Recent reports filed with the state Election Law Enforcement Commission (ELEC) show that as of June 23, Donovan's campaign has raised a to-date total of $206,653, compared with $39,010 over the same time frame for the Tedesco campaign.
"[Donovan's fundraising reports] are very impressive. So I think that's one of the things that we have to do [for Tedesco's campaign]," Booker said. "Part of that equation is going to have to be helping with resources. Money is important. But ultimately, it comes down to voters, and getting the voters out."