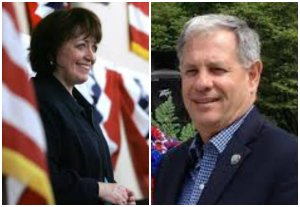 HACKENSACK – A look at the most up-to-date campaign finance reports filed by the rival candidates in the closely-watched Bergen County Executive's race foreshadows an important theme in the campaign to control New Jersey's most populous county: allies of Republican Governor Chris Christie competing against labor unions, which often side with Democratic candidates.
Recent reports filed with the state Election Law Enforcement Commission (ELEC) show that as of June 23, Donovan's campaign has raised a to-date total of $206,653, compared with $39,010 over the same time frame for the Tedesco campaign.
A closer examination of Donovan's ELEC report shows that the greatest monetary contribution that she received over $300 came from the election fund of state Senator Kevin O'Toole (R-40), which contributed an aggregate amount of $8,200. O'Toole is one of Christie's closest political allies.
Another prominent name in New Jersey GOP circles also appears on Donovan's ELEC form. Ron Gravino, who is serving as Donovan's campaign treasurer, also served as Christie's campaign treasurer in the governor's victorious 2009 and 2013 campaigns.
Although Tedesco's ELEC report demonstrates that he is at this point significantly behind Donovan in the fundraising arms race, his supporters include several labor unions willing to snipe at Donovan to foil her reelection attempt to remain the political chief of Bergen, often the bellwether county in statewide elections.
The Northeast Regional Council of Carpenters, which declined to support Christie's reelection bid last year, donated $500 to Tedesco's campaign. Local Union 164 of the International Brotherhood of Electrical Workers (IBEW), based in Paramus, where Tedesco served as mayor, provided $1,000. Policemen's Benevolent Association (PBA) Local 134, based in Hackensack, also donated $1,000.