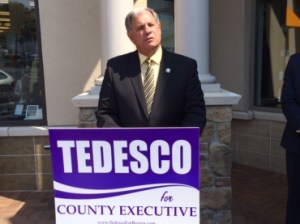 PARAMUS – Bergen County Freeholder Jim Tedesco has reason to believe that based on his recent electoral history in his hometown of Paramus, the Democratic candidate for Bergen County Executive might have a chance of defeating Republican incumbent Kathleen Donovan in November.
Tedesco, who served as mayor of Paramus from 2003 to 2010, presided over an approximately 26,000-person Bergen borough that many political observers see as the bellwether town in New Jersey's bellwether county in statewide elections.
Last November, when Republican Gov. Chris Christie won a resounding reelection victory that included a 50,000-vote plurality by the governor in Bergen, Tedesco held his own while other Bergen Democrats went down.
In the 38th Legislative District race, although state Sen. Bob Gordon (D-38), of Fair Lawn, defeated his Republican challenger, Oradell attorney Fernando Alonso, overall, Gordon lost Paramus by 206 votes out of over 7,800 votes cast in the town. Gordon's slate mate, Joseph Lagana, won a seat in the state Assembly but failed to win Paramus, his hometown.
Tedesco, conversely, triumphed over all three Republican freeholder candidates in Paramus, winning by more than 200 votes over the closest GOP vote-getter and more than 500 votes over the farthest GOP candidate's vote tally.
Donovan campaign spokesman Mark Campbell shot down the idea that Tedesco could use Paramus as a beachhead to take all of Bergen County.
"A few hundred-vote win out of Paramus is hardly locking anything down," said Campbell. "And when [U.S. President] Barack Obama was winning the county by 40,000 votes [in 2008], Kathe Donovan stemmed the tide and won by over 10,000 votes [for reelection as Bergen County Clerk.] Thousands of Bergen County residents crossed back over on a down-ballet race and voted for her.
"Despite everything that [former Bergen County Democratic Chairman] Joe Ferriero and the vestiges of his political organization that are trying to make a comeback are trying to do, we have a very good idea about who is going to vote in a non-presidential election year," added Campbell, referring to the former Bergen County Democratic chairman who was convicted on federal corruption charges in 2009, the year before Donovan was elected Bergen County Executive. "Voters know and trust Kathe Donovan."
"It's going to be a ground war, so we have to get our Democratic votes out there in base Democratic towns like Paramus, Fair Lawn, Teaneck, Hackensack and Englewood," said Tedesco campaign spokesman Michael Pagan. "We also need to have a major push into south Bergen County and into competitive towns like North Arlington. South Bergen is [Donovan's] base."
Recent state campaign fundraising reports show Donovan with a significant fundraising edge over Tedesco, although U.S. Sen. Cory Booker (D-NJ), a Bergen County native running for a full six-year term this year, has pledged his support to Tedesco.
"It's always hard to beat an incumbent. If you want to win, you need the necessary resources, whether it be financial resources or boots on the ground, to compete," said Pagan. "To win, you need money and you need soldiers."