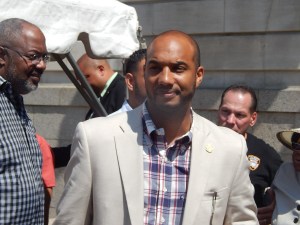 PATERSON – On the Torres transition team after he stayed neutral in the mayor's contest despite party pressure to back Councilman Andre Sayegh, Freeholder T.J. Best committed himself to a re-election run next year.
"Yes, I'm running," said the VIP-sectioned Best, whom party sources said would find himself in trouble had Sayegh triumphed.
The freeholder made it clear that he's going again for his freeholder seat – not an assembly seat, squelching another rumor.