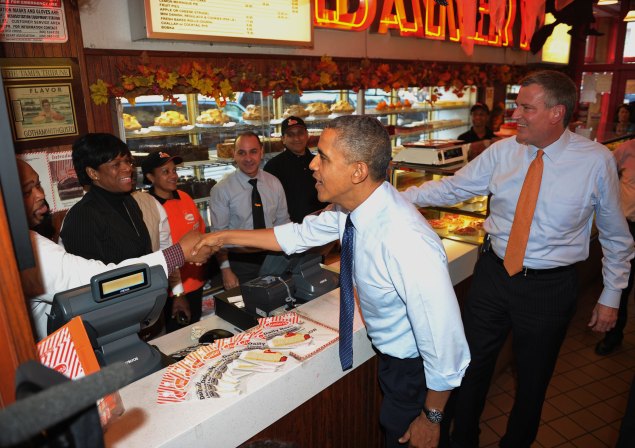 Mayor Bill de Blasio is on board with President Barack Obama's plan to skirt the U.S. Congress and implement immigration reform through executive orders, he said Tuesday.
"I think the president doesn't have a lot of choice here," Mr. de Blasio said at an unrelated Bronx press conference. "I think he's tried for years to find common ground with the Republican House members and to address something that obviously has to be responded to in this country."
The mayor said the country can't continue having 11 million of "our fellow residents of this country" living undocumented here.
"We act like it's not happening. It's absolutely ridiculous and it's not sustainable and it's not fair," he said, adding many are subject to injustice. "They're our fellow human beings."
The president announced his intention to take on immigration himself yesterday, after attempts to do so legislatively have repeatedly failed in the House of Representatives.
"If Congress is uninterested in acting on crucial national issues issues that have fundamental national impact on our future as a country, then the president has every right to act in every way he can," Mr. de Blasio said.
The gridlock Mr. Obama faces in Washington isn't quite something the the mayor has had to deal with often, at least within the city — he and the City Council agree on much, including the plan to roll out municipal identification cards for undocumented immigrants. The bulk of any opposition to the mayor's agenda has come at the state level — where he's pushing hard to establish a Democratic majority in the Senate.