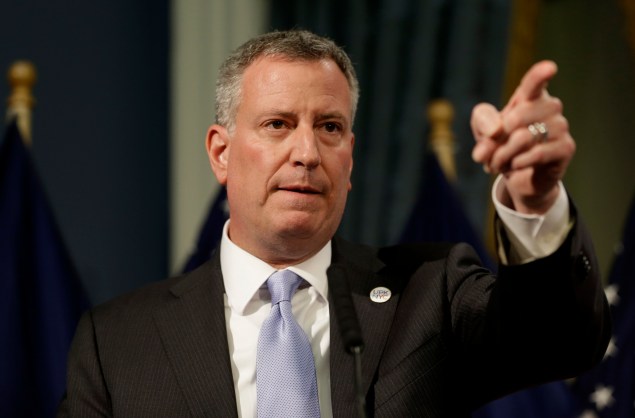 Mayor Bill de Blasio has brought in a modest $44,100 from early donors to a 2017 campaign account.
The account lists Mr. de Blasio's 2017 prospective office as "undeclared," though it's the year he would be up for re-election. In the same period of time, he spent $32,566, leaving just over $11,000 in the account, according to the Campaign Finance Board.
Among the early donors were Ken Sunshine, the Hollywood PR pro and longtime de Blasio backer, and John Wilhelm, Mr. de Blasio's cousin and former head of Unite Here, a hospitality industry labor group.
A campaign spokesman for the mayor called the account "administrative."
"The Administrative Account was set up to pay for ongoing expenses that were previously covered by the 2013 campaign, such as non-governmental meals and events," Dan Levitan said.
Meals did make up many of the expenditures—the account was used to pay at moderately priced bites to eat at Bar Toto, Mr. de Blasio's beloved Park Slope haunt, and close-to-the-office City Hall Restaurant, as well as a pricier sit-down at Del Posto.
Mr. de Blasio's camp also spent on typical expenses—email hosting, phone bills, campaign consultants. Less typically, two $5,000 payments were made from the account to Wild Bronco Productions, based in California, for services relating to the Inner Circle Dinner, where Mr. de Blasio danced and acted on stage and which he promoted with a video featuring actor Steve Buscemi.
The $44,100 Mr. de Blasio has collected so far this year is less than some of his fellow elected officials have begun socking away—Councilwoman Elizabeth Crowley has $53,475 in a 2017 account, and Queens Borough President Melinda Katz has $93,640 in the bank.