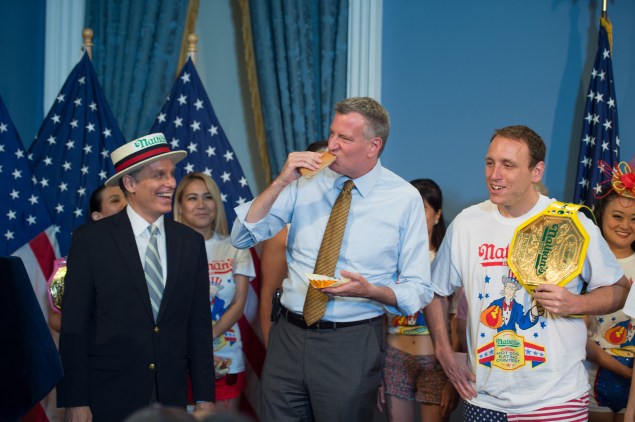 The Blue Room at City Hall went to the dogs Thursday.
Hot dogs, that is–and hot dog puns were on the menu when Mayor Bill de Blasio oversaw the "weigh-in" of the contestants for the Nathan's Famous Fourth of July International Hot Dog Eating Contest.
"Tomorrow, rain or shine, tens of thousands of people will descend on Coney Island to relish the great hot dog contest," the mayor said, to little laughter. "That was my first attempt at a pun–to relish it–get it everyone?"
While the festive weigh-in is often outside, this year it was in the staid Blue Room, where a giant hot dog mascot named Franksters danced in front of a portrait of Alexander Hamilton. Next to Franksters stood a table with silver platters of cooling Nathan's hotdogs, along with trophies and placards listing last year's records–69 hotdogs for male winner Joey Chestnut, and 45 hotdogs for female winner Sonya "The Black Widow" Thomas.
A slew of contestants strode into the room as contest co-founder George Shea called their names like a carnival barker, but only the most elite were weighed in–including returning champions Mr. Chestnut and Ms. Thomas.
"Some might say it's so competitive it's a dog-eat-dog atmosphere," Mr. de Blasio said. "I've got great writers. I'll be here all week."
Mr. de Blasio is not the first mayor to suffer the indignity of the hot-dog-themed press conference. In fact, his pun count–just two–was far below Michael Bloomberg's in 2012, when he rattled off a long list only to ask aloud, "Who writes this shit?"
Despite the high drama of the weigh-in, the mayor seemed perhaps most excited about getting to eat a hot dog at the end of the event, noting he was only in it for "the free hot dogs."
But Joey Chestnut offered a bit of wisdom: "One way or another, you're paying for it," he said.