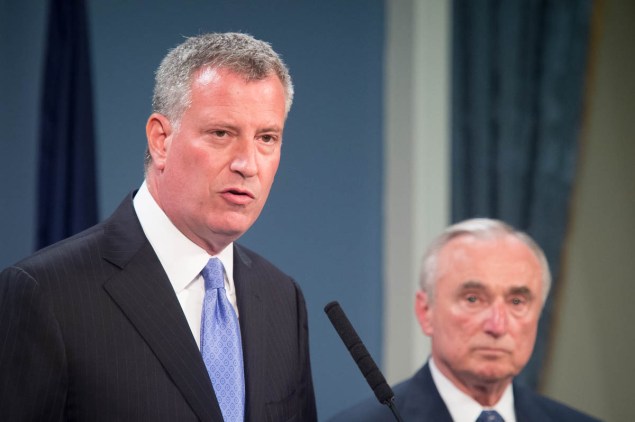 Mayor Bill de Blasio declined to say Monday whether race was a factor in the death of Eric Garner in NYPD custody — something several elected officials have alleged and his police commissioner has denied — but said it certainly has been a factor in NYPD and community relations before.
"If you talk about the last decade or so in the city, was race a factor and a problem in the relationship between police and community? Obviously it was," Mr. de Blasio said at a press conference Monday.
It was the first time he's taken questions stateside about Mr. Garner's death in more than a week, after returning from a trip to Italy that was delayed by a day as video emerged of police taking down the Staten Island man using what appeared to be a chokehold.
Since then, Rev. Al Sharpton has held marches and rallies and his National Action Network paid for Mr. Garner's funeral. Several elected officials, including some in the City Council, have said that Mr. Garner was stopped for selling loose cigarettes, and subsequently died, because he was black.
Police Commissioner Bill Bratton, meanwhile, told the Observer last week he did not believe race was a factor in the incident.
Mr. de Blasio, who promised to repair the fractured relationship between the NYPD and communities of color and who was elected with the support of many black voters, tread carefully when discussing Mr. Garner specifically.
"On the question of race again, the concept here, I think everyone in this room needs to feel this — anyone is accused of anything, they deserve due process and democracy. That is true for any individual New Yorker, and that is true for any law enforcement professional," Mr. de Blasio said. "Everyone deserves due process. It's not appropriate to pass judgement in the Garner case until all the facts are looked at."
Mr. de Blasio said the discord between communities of color and the police made up much of the public debate in the city last year, when the City Council installed an inspector general for the department and sought to reform the use of stop and frisk.
"A lot of what animated the debate in the city last year was a need to address these issues … very openly, and say that we're not going to have racial profiling be part of our approach to policing. We're not going to allow there to be any inference of unfairness in our approach to policing," Mr. de Blasio said.
He continued: "I have to say, even though we know we have a lot of work to do, the progress that made in the last seven months truly encourages me."
Mr. Bratton called last week for a full-scale retraining of the NYPD not only on chokeholds, but on all uses of force. And Mr. de Blasio, who recently appointed a new leader of the Civilian Complaint Review Board, promised Monday it would become a more active oversight entity — and would investigate claims of chokeholds, prohibited by NYPD rules, over the last five years.
While some have called for Mr. Bratton's resignation or firing, and for the end to "broken windows" policing — cracking down on quality of life crimes — Mr. de Blasio did not back away from Mr. Bratton or his approach Monday.
And Mr. Bratton said many people in New York City today simply don't recall what it was like before a crackdown on quality of life crimes.
"They live in a very different environment," Mr. Bratton said.
Quality of life crimes often lead to bigger ones, he said — police responded to a complaint about a house party on Staten Island this weekend only to discover an AK-47 gun on the front lawn.
"Would you not want us to deal with that quality of life issue, house parties?" Mr. Bratton asked.