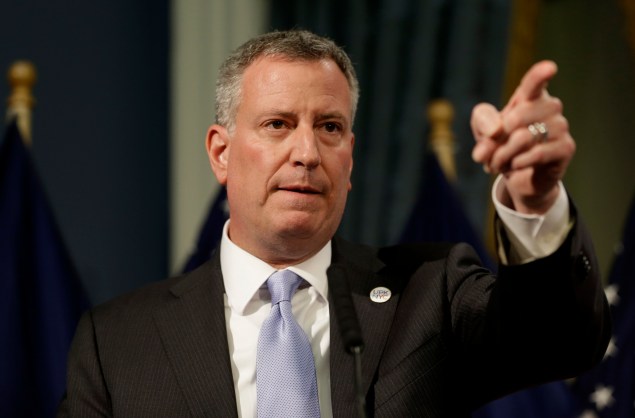 After turmoil in the Middle East divided some New Yorkers this morning — pro-Israel elected officials rallying on the City Hall steps, pro-Palestine protestors shouting from beyond the gates — Mayor Bill de Blasio said it was "absolutely" appropriate for local officials to voice support for Israel.
"Absolutely. I am a mayor of the city on the Earth with the largest Jewish population of anywhere on this Earth," Mr. de Blasio told the Observer.
Protesters outside the City Hall gates chanted "shame on the City Council," among other things, during and after a press conference hosted in part by the Jewish Caucus of the New York City Council.
Local elected officials in the council, unlike the members of Congress present at the rally, don't typically influence international policy — and some protesters slammed the officials for speaking on their behalf to support what they alleged is an "apartheid" system.
But Mr. de Blasio, who was attending FDNY and emergency training events during the rally, doubled down on his full-throated support for Israel, voiced in a speech to American Israel Public Affairs Committee earlier this year that garnered controversy for being closed to press.
"By definition, I've said it many times, it's not only normal and natural, I consider it my responsibility to stand up for the state of Israel, and Israel has a right to defend itself, period," Mr. de Blasio said. "We all hope and pray for as quick an end to the bloodshed as possible. We all hope and pray for a resumption of the talks that could lead to a long term solution. But the bottom line here is Israel came under unprovoked attacks by rockets from Gaza, and it has a right to defend itself."
The most recent flare up between Israelis and Palestinians comes after three Israeli teenagers were kidnapped and killed, an act for which Israel blamed Hamas, the political party classified as a terrorist organization in the United States.
In recent days the two countries have since been firing rockets at one another — most fired at Israel have been intercepted, while Israeli rockets have killed almost 200 people, according to a New York Times report from today.
While the pro-Israel position is one adopted by much of New York City's political establishment, it is not universally popular — the liberal Nation magazine knocked Mr. de Blasio for his pro-Israel stance following the AIPAC speech.