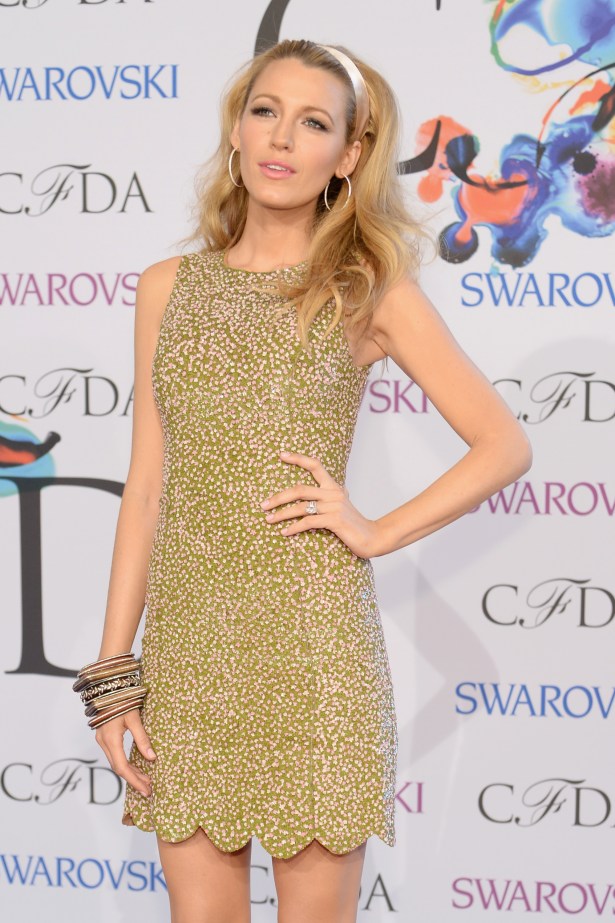 We first got word that Blake Lively was working on something that is not a lifestyle website last December. Now, the site, called Preserve, is ready to launch. Ms. Lively had a few casual sit-downs with a Vogue writer to discuss the site and her life. Here are the facts.
• Despite its name, Preserve is not the go-to online destination for morticians and jelly lovers. Instead, it "will seek out and celebrate people all over America who are making things — food, clothes, pillows, dishes, dining-room tables — with their hands." So, Etsy.
• It's basically a dream-site for anyone who's incorporated Mason jars into their wedding plans: "Lively is hoping to tap into her generation's obsession with all things small-batch: the perfectly imperfect handcrafted, the exquisitely bespoke, the deliciously artisanal." A.k.a., Pinterest.
• Still, Ms. Lively reminds us, this is not a lifestyle site. Preserve "is 'not trying to show you the perfect life or the aspirational life. It's real life. It's the thing that blindsides you on an idle Tuesday that's tragic but that also makes you who you are." Well that escalated quickly. Also, still vaguely Pinterest.
• "Much like the woman who founded it, Preserve is a fundamentally curious and free-spirited enterprise." But it's also kind of scary  — "its design evokes a kind of moody-spooky beauty that one associates with Savannah or New Orleans." Huh.
• Ms. Lively is listed as a "celebrity homemaker" on Wikipedia and appears to be okay with that.
All in all, we can't wait to watch video diary entries about married life with Ryan Reynolds (whom Ms. Lively, 26, pukingly addresses as "darling") while purchasing a $100 bracelet that's actually just a piece of copper wire bent into a rhombus from Preserve.
But wait! There's more. In the Vogue write-up, we also get a rare glimpse at Ms. Lively's propensity for mildly cruel dad jokes, which the writer has politely termed "deadpan humor." From Vogue:
"Lively has a tendency toward deadpan humor, often delivered with a laconic stare that can make it difficult to figure out whether she is joking or not. 'When I say something funny, I don't laugh,' she says, 'so my friends are always like, "Hahahahaaaa!" so people know. When I'm not with them, I always think, This person doesn't know I'm funny; they just think I'm a jerk.'"
Later, she is kind enough to display her trademark wit to a stranger. The joke doesn't land because her entourage isn't around to give the signal to those who aren't in the know that it is, in fact, a joke.
 "A waiter approaches us to ask if we'd like to start with something to drink. 'Can I have the French onion soup to drink?' says Lively.
"'I'm sorry?' says the waiter.
"'See what happens?' Lively says to me. 'You have to be my laugh track.'"
Yikes.