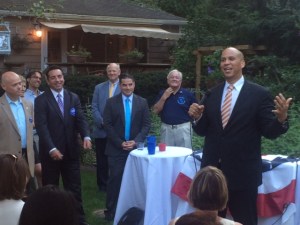 WALL TOWNSHIP – More than two hundred people came out to the Wall Township backyard of Gary and Linda Faraci on Gully Road to support the candidacies of Monmouth Democratic Freeholder candidates Giuseppe "Joe" Grillo and Larry Luttrell on Friday night.
Flanked by blooming flower beds, focused political allies and a posse of squawking chickens, the Monmouth Democratic ticket's most prominent supporter spoke out for Grillo and Luttrell.
"People are here because you believe in the leadership of two really fine men, and you believe in the idea that democracy is not a spectator sport," said U.S. Sen. Cory Booker (D-NJ), who is at the top of the statewide Democratic ticket in November as he seeks a full six-year term. "It is a full-contact participatory endeavor. You have to be able to pay it forward through your contributions, your involvement, your activism and your sacrifice."
Booker arrived in Monmouth as Grillo and Luttrell continue to gear up for battle with incumbent Republican Freeholders Lillian Burry and Gary Rich to win three-year terms.
"This is different. This isn't like any other year. This year is special. We have a rock star on top of the ticket," said Luttrell, of Holmdel, an attorney, as he pointed to Booker. "He's here to help us, and that means a lot. We're going to out work them, we're going to out raise them, and we're going to make it happen."
"For too long, we've had too many people without a voice in this county," said Grillo, of Asbury Park, a businessman. "We're talking about small business owners, people who are trying to raise their young families in Monmouth County and feel like they're getting priced out. It's getting tougher and tougher. They're looking to the county for help, and they're not seeing it. Larry Luttrell and I will be that voice for each and every one of you. Public service is not about the greatness of your office, but about the goodness of the people of Monmouth County who we want to serve."
Whether or not Grillo and Luttrell will get the chance to serve depends on their ability to buck the general voting trend in Monmouth, which tends to favor Republican candidates.
But Monmouth County Chairman Vin Gopal told the crowd that there is a data-driven reason to believe that Democratic candidates in Monmouth can triumph.
"We need to remind people that we have more registered Democrats in this county that Republicans. There are over 102,000 registered Democrats and about 97,000 registered Republicans," said Gopal, who later told PolitickerNJ.com that the event raised approximately $25,000 for Grillo and Luttrell. "Congressional leaders like [U.S. Reps.] Frank Pallone (D-6) and Rush Holt (D-12) have done a great job to build a Democratic base. And now it's our responsibility together to take this to the next level."
Booker lost Monmouth to GOP candidate Steve Lonegan in the October 2013 U.S. Senate special election by an approximately 59,000 vote to 49,000 vote tally, although Booker won overall by a 55 percent to 44 percent margin.
PolitickerNJ.com asked Booker how he believes he can win Monmouth in November against Republican candidate Jeff Bell.
"I'm here purely because I believe in Luttrell and Grillo. That's what brought me here today," Booker said. "For my election, we're still a way out. I'm focused on supporting these county leaders. I'm interested in electing good candidates, and we have the best people for the job here in Monmouth."