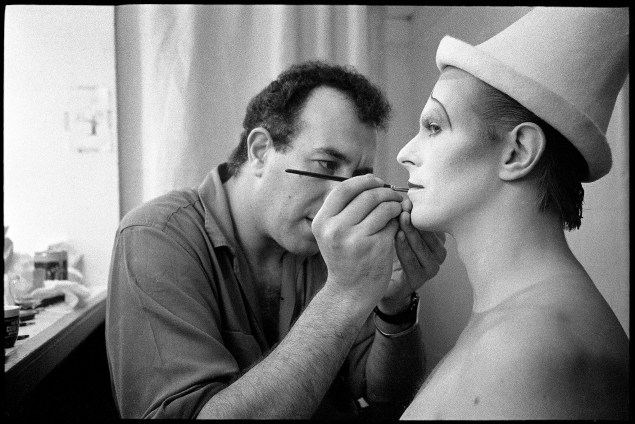 A new book Duffy Bowie – Five Sessions, (published August 1) chronicles the back story of the artistic collaborations between David Bowie and British photographer Brian Duffy over a period of 18 years, showing outtakes from their work on sessions for Ziggy Stardust, Aladdin Sane, White Sands, Lodger and Scary Monsters. The book pieces together stories from all the collaborators involved with the sessions including makeup artists, costume stylists and technicians. Few artists have perfected as many chameleon-like changes of image quite so successfully as David Bowie. For much of his formative career the man who defined late 20th century music and fashion style-wise seemed to dazzlingly re-invent himself with every new album. Brian Duffy (known simply by his surname Duffy) who died in 2010 was a photographic genius, a champion within his own field and a brilliant creative sparring partner for the singer to try out new ideas.
Though now a long-time resident of New York City, Mr. Bowie had his first taste of commercial success back in the late '60s when the London-born singer reached No. 5 on the British charts with Space Oddity. At that time Duffy, the cockney bad boy of "'60s snappers," was already a hugely successful fashion photographer, almost as famous as the celebrated stars he was paid to shoot. Brash, short tempered and notoriously difficult to work with, he was responsible for some of the most enduring images of the period including portraits of John Lennon, Sidney Poitier, Harold Wilson and Brigitte Bardot. It's easy to understand why the ultra-theatrical fledgling musician Mr. Bowie felt he had found a like-minded soul. Last year, when London's V&A Museum chose to promote their spectacular Bowie Is exhibition using the now iconic Aladdin Sane image as the promotional poster for the show, worldwide interest in the Duffy archive (which has become a full-time job for his eldest son Chris Duffy) escalated to fever pitch. "Everybody knows that one classic image of Bowie. It has been called the Mona Lisa of Pop," Mr. Duffy told the Observer. "But few people knew that Duffy was not only responsible for the photo but also for the whole concept of the lightning flash and even the title. He misheard David telling him the new album was going to be called A Lad Insane, a reference to the complete insanity of fame and pressure that had engulfed his life since the explosive success of Ziggy Stardust." With a masterstroke of timing, a reclusive Mr. Bowie who seemingly has lost none of his ability to shock and surprise his fans, unexpectedly released new music to celebrate his 66th birthday last year, and Bowie mania resurfaced big time. The demand for unseen images prompted Mr. Duffy to start working on an idea that collated all the sessions his father had shot with Mr. Bowie, and to tell the back-story of each picture. The new book, Duffy Bowie; Five Sessions, chronologically charts the working relationship of the two men. "Duffy and Bowie collaborated on five sessions over a long period of time, and both men were very respectful of each other's creativity. As Bowie continually rolled out an extraordinarily inventive cast of characters from Ziggy Stardust to Scary Monsters, Duffy was the man he chose to capture them all on film," added Mr. Duffy.
Written by Mr. Bowie's biographer Kevin Cann, with contributions from the individuals who helped to make the final image so memorable, the costume designers, studio managers and makeup artists, the new book provides a fascinating insight into the collaborative methods of each shoot and shows a wealth of previously unseen pictures. "Duffy was never star struck, and certainly not the type to be impressed by the cult of celebrity," said Mr. Duffy Jr. of his father. "His recollection of Bowie was that 'He was just a guy who liked dressing up,' and as far as he was concerned everyone was simply there to do their job to the best of their ability; but the longevity of the Aladdin Sane album cover turned out to be something far more significant than any of them could ever of imagined. In later years even Duffy conceded that 'there was a little bit of magic in the room that night. I'll say it myself, it's a f….king great cover!'" Not a bad result then, for an anarchic idealist who continually strived for perfection, and has left us with an exceptional body of work and perhaps the ultimate image of 20th Century pop.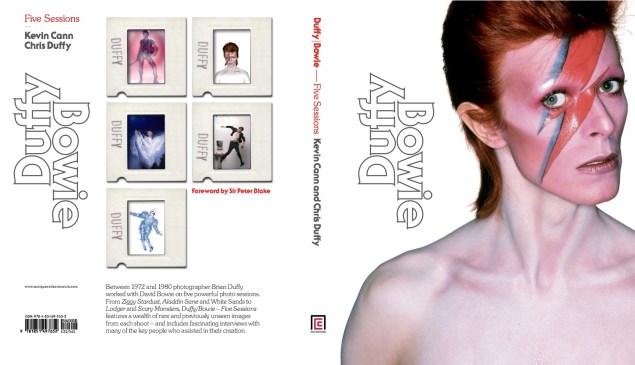 Duffy Bowie; Five Sessions is published by ACC Editions, $45.00. For further information and images visit the Duffy archive at www.duffyphotographer.com