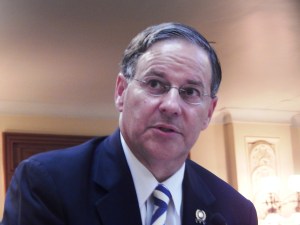 TRENTON – Where others get their hair mussed, he manages to get through it all wearing the same devilish grin and furrowing his brow with what appears to be genuine concern on the subject of civility.
Widely liked, Assembly Minority Leader Jon Bramnick (R-21) doesn't appear to be on anyone's enemies' list in Trenton, although there are those – alert to his particular talents and only too willing to see a future statewide competitor fail – who have enjoyed seeing the good-natured and well-mannered Republican entangled in the hazards of Gov. Chris Christie, who never pretended to be overly civil.
Bramnick doesn't appear to have lost a stride, though, in the role of Christie's avid Bridgegate apologist.
Even before the debacle, when Christie last November prepared to take a blowtorch to the leadership scaffolding of Bramnick's district-mate and pal state Senate Minority Leader Tom Kean, Jr. (R-21), Bramnick managed to retain both "friends."
He's also friends with state Sen. Kevin O'Toole (R-40), who – with Christie's blessing – tried to tomahawk Kean.
Bramnick doesn't see his love of the YouTube-moment-voracious Christie as a contradiction of his own humor-loving style.
"My wife and I are opposites," Bramnick told PolitickerNJ, sitting in his Statehouse office. "I'm a lawyer, she likes to paint. She would much rather be alone. I'd rather have 50 people around me. I really respect how she handles that stuff. It's the same thing there, with the governor, the fact that he can make tough decisions and somebody's not going to like them, that's pretty cool. I would be more likely to compromise. His ability to respond to questions at a press conference – magical. I'm in shock by how articulate he is."
Although he accepts his and Christie's differences, Bramnick doesn't accept that the governor is simply the consummate ball hog with a bad attitude and his own same-party polar opposite.
"Our personalities are different but he's been phenomenally successful with his personality," the minority leader said. "When he gets mad or talks about something he observes, the average person relates to that. It takes guts to do that. As Mike DuHaime once said, 'people want you to be just like them and a little smarter.' Christie's like people, and a lot smarter.' He is magical. Whoever meets him is impressed, how he handles the one-on-one or large crowds. He's got a charisma that is unmatched from my experience on earth. That doesn't mean he doesn't have faults. But I have never been bored whenever he has spoken or when he comes up with concepts I don't know how he comes up with."
As part of his continuing defense of Christie, Bramnick continues to criticize those Democrats at the core of the Select Committee on Investigations (SCI) examining Bridgegate.
"The one opening Democrats have is the one email [former Christie Deputy Chief of Staff] Bridget Kelly sent to [former Port Authority operative] David Wildstein," Bramnick said. "That email has never been tied to the governor, but the last seven or eight months Chris Christie has been the target of ongoing attacks by Democrats looking at the next gubernatorial election. It slows down the progress we were making. He was elected last year – a Republican – by an overwhelming margin. He was so popular. People like the direction of the state. The message was very simple, but now what is the focus? Hey, maybe we can get something on Chris Christie. Do you think the average person wants that?
"If you're truly concerned about abuse of power, take testimony from someone else beyond the Christie administration," Bramnick added. "[SCI chairs] Wisniewski and Weinberg don't like the governor. I think it's personal. I didn't come down here to fight personal battles and immerse myself in personal relationships. I think it's personal to them. It's not about me or you, it's about the people of the State of New Jersey."
Bramnick concedes that the investigation led by Senate Majority Loretta Weinberg (D-37) and Assemblyman John Wisniewski (D-19) is not without justification.
"When you see an email like that you've got to get to the bottom of it, but when you go down this road of politicians investigating politicians, how can politicians fairly evaluate their adversaries?" he said. "I leave it up to professional prosecutors.
"The only time I haven't loved this job was during that time of the ongoing attacks on the governor, attacks that were vicious and disrespectful, 'wanted' posters on television of people in the administration who have committed no crimes," Bramnick added. "Depressing. That was the first time I looked at politics and said 'this is a sad moment.'"
Asked about whom he supports for president, it's no surprise to see Bramnick grin back and name his favorite governor.
"You can't compare Rudy Giuliani to Chris Christie," he told PolitickerNJ, when nudged on the similarities of the two prosecutors from the Northeast and reminded of the former New York mayor's disastrous 2008 presidential run. "Wherever I go people say, 'I love your governor.' He ended political-speak in this country. When I used to listen to politicians I didn't know what they were talking about. He doesn't do that. I believe he ended the era of political speak. Just the other day, the President of the United States said 'sue me.' That was a Christie moment. People are much more direct, and I believe that's clearly a result of Chris Christie. He had a substantial effect on American politics. The President stole that from Chris Christie."
Bramnick said he enthusiastically believes Christie is viable nationally.
"I don't think Chris Christie is a reaction to Obama at all," he said. "Who else you could put in town hall meetings who performs like that? The only people he's attacked, he's attacked most of those people for policy reasons. I don't think your average New Jerseyan hates Chris Christie. Maybe a partisan Democrat hates Chris Christie. I like him. He's good."