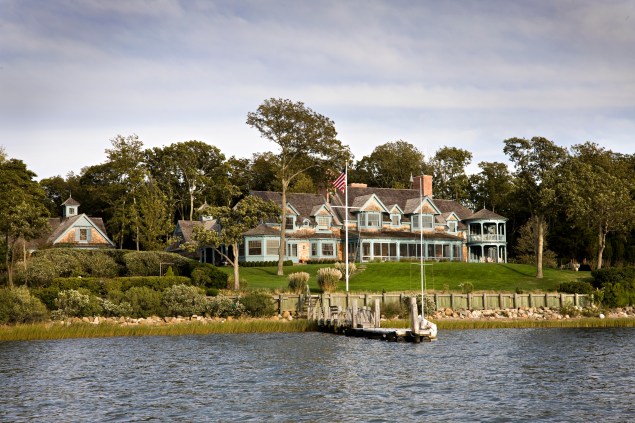 Marco and Katherine Leahy Birch, the current owners of this $28.5 million Shelter Island estate, were well-known for hosting charity galas and concerts on the house's sweeping lawn, but apparently their tastes encompassed more than white wine spritzers and classical music.
The main house and assorted outbuildings at 15 Little Ram Island Drive not only clock in at more than 23,000 square feet, but the estate comes with a gunite pool, hot tub, eight-person sauna, spa, gym and professional disco with lounge, bar and nightclub-caliber sound and lighting.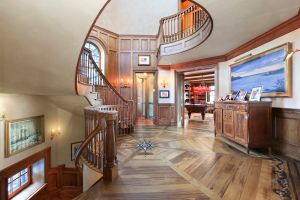 But lest you worry about rattling around the mansion on quiet weekends for two, broker Melina Wein, of M. Wein Realty, assured the Observer that despite having 10 bedrooms, nine full baths, three half-baths and a 50-foot living room with beamed, coffered ceilings, the layout is such that the home can be made to feel downright snug.
"It's probably the largest house on Shelter Island, but it can be cozy when you have small groups of people," said Ms. Wein. "You can have a very private lifestyle and not feel like, 'oh my god, I'm living in 18,000 square feet.' "
The main house, which seven years ago replaced a less majestic manse on the 7.6-acre site, has the full complement of luxury trappings—Christopher Peacock-kitchen, oak-paneled library/billiard room, reclaimed antique stone, white oak baked floors—and then some. There is, for example, a wine cellar where up to 10 can dine—forget the inconvenience of having to dash downstairs for another bottle of Chateau Margaux. You'll also find a tennis court, squash court and porte-cochère, as well as a circular drive, seven fireplaces and a domed, octagonal garden room.
And all those bottles of bubbly ought to stay nice and dry if another hurricane hits. While the estate offers all the delights of waterfront living—there's a private beach and a deep-water dock on Coecles Harbor—the current owners fly in on a seaplane twice a week from Manhattan, said Ms. Wein—the house is situated on a rise above the FEMA floodplain.
"You can kind of have the Hamptons on your own terms," she said, enumerating the still-unsullied charms of Shelter Island. "And then you can take a boat and in 20 minutes be in Sag Harbor."
And if you don't have a boat?
"You wouldn't have a property like this without a boat."