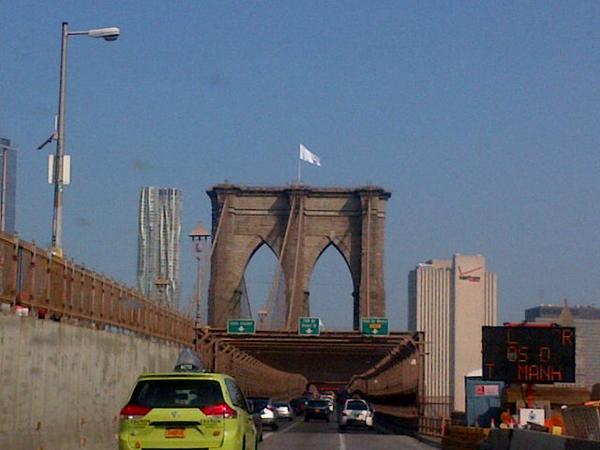 There was some breaking news this morning: white flags mysteriously replaced American flags on top of the Brooklyn Bridge. News organizations were scrambling to find out who was behind the stunt when @BicycleLobby, whose bio clearly identifies it as a parody account, jokingly claimed responsibility.
"Earlier today we hoisted two white flags to signal our complete surrender of the Brooklyn Bridge bicycle path to pedestrians," the tweet read. The tweet was then reported as fact by two news organizations: the Daily News and the Associated Press.
"A pair of high-flying American flags was swiped from atop the Brooklyn Bridge and replaced Tuesday with two white flags—with a pro-bicycling group taking responsibility," reported the Daily News in a triple-bylined story with an additional reporting credit. "Bike path advocates have taken responsibility for the appearance of two mysterious white flags on the Brooklyn Bridge," the AP wrote.
Both stories have since been changed to reflect that it was all a joke, although neither issued corrections or noted the updates, but not before the parody Twitter account had some fun calling out the news organizations:
Sure, breaking news can be tricky and cause even veteran reporters to make mistakes. But considering that the second line of @BicycleLobby's bio labels it a parody account, it's a pretty embarrassing oversight.
Although, as @BicycleLobby pointed out in a follow-up tweet, the bio doesn't reveal it's a parody account until the second line. And when news is breaking, who has time to read an entire Twitter bio before running with it?