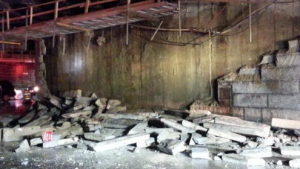 Wednesday evening's torrential rains nearly flooded parts of Brooklyn, and most probably caused part of a wall underneath the Brooklyn Bridge to crumble on a shelter-seeking family.
Like so many other New Yorkers taking refuge from the storm, Jerome Dilligard, 52, and his family were waiting in the Brooklyn Bridge underpass at Prospect and Washington streets, according to the Daily News.
Mr. Dilligard dashed through the storm to get their car, and around 8 p.m. a 25-foot wide section of the wall collapsed, covering his family in the rubble and knocking his granddaughter to the ground.
"A stranger picked her up," Mr. Dilligard said of 4-month-old baby Kiarra Jackson. "They were right under the wall when it came down."
His wife, Teresa Dilligard, managed to dig out 8-year-old daughter Kaylah Dilligard, and 30-year-old stepdaughter LaToya Jackson and her 10-year-old son, Khmani Jackson.
"It's a miracle they got out with their lives," a grateful Mr. Dilligard said to the paper.
"We will immediately conduct a full inspection of all the facades, and will continue to thoroughly inspect our entire bridge inventory," a Department of Transportation spokesman said, while noting that there were no signs of structural damage to the Brooklyn Bridge.
Meanwhile, the Manhattan skyline looked no worse for the wear, as the numerous lightening strikes illuminated the skyline: