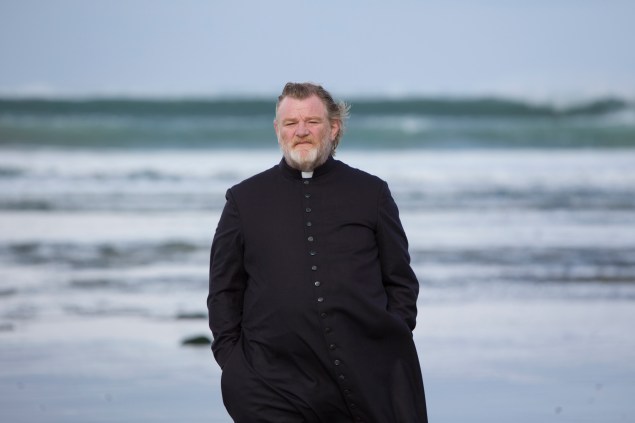 In the gloomy, unsettling film Calvary, the worldly but good-hearted priest of a remote beach community on the wind-lashed coast of Ireland is doing his daily duty when a man enters the confessional and threatens to murder him as revenge for the priest who raped him as a youngster. Thus begins a rugged movie about a week in the life of an innocent man of the cloth who devotes himself to business as usual while waiting to see if, when and how death will come. Harrowing and suspenseful (and often a hearty broth of husky humor as well), the film is written and directed by John Michael McDonagh (Ned Kelly, The Guard), brother of acclaimed playwright Martin McDonagh, the celebrated author of many black comedies, including The Beauty Queen of Leenane and The Cripple of Innishmaan, that successfully blend thrills, chills and laughs. Gallows humor must run in the family.
---

CALVARY ★★★
(3/4 stars)

Written and directed by: John Michael McDonagh
Starring: Brendan Gleeson, Chris O'Dowd and Kelly Reilly
Running time: 100 min.

---
Calvary, named after the site near Jerusalem where Christ was crucified, is about Father James (played by the burly, shuffling character actor Brendan Gleeson), a man whose rough personal life has prepared him with extra psychological ammunition for daily visits to a disparate group of troubled parishioners who include an unhappy butcher whose oversexed and unfaithful wife is beaten and abused by her black mechanic lover, a sexually repressed young man who cannot meet available women and becomes addicted to pornography and thoughts of suicide, a wealthy financier who believes human life is dispensable and a bartender whose pub is the village gathering place, now being foreclosed by the bank. Father James' mission is to bring these tortured souls closer to communion with God.
The movie follows him on his daily rounds—administering last rites to a young man who dies in a car wreck, dispensing advice to people who have lost their faith, delivering groceries to an elderly shut-in who reads books about Hitler and listens to Hoagy Carmichael records. Between interracial adultery, coke sniffing in the pub toilet and an act of violence that burns down the church, the priest sees every sin in the book. Even his own daughter, from the days before he entered the priesthood, is recovering from her own suicide attempt. These are not the jolly reprobates with charming brogues from The Quiet Man or the fabled soothsayers ready for another donnybrook Barry Fitzgerald used to play. These are people who want to be loved, admired or feared before they self-destruct. And this is not the Ireland of shamrocks, potato famines or leprechauns, but a microcosm of corrupt and despondent society—their misery played out against the spectacular emerald green of the Irish seacoast. And now there's the ominous threat to his own life Father James must face—preparing the viewer for an inevitable showdown with fate that won't be pretty. A wicked, gimlet-eyed revelation of both Catholic dogma and Irish life today, Calvary has unflinching things to say about the people and the church that defies cliché.
Downbeat, depressing and heavy as lead, Calvary is nevertheless an unusual film that never bores. Impeccable performances by Chris O'Dowd, Aiden Gillen, M. Emmett Walsh and Kelly Reilly are riveting. And Mr. Gleeson is a bear-like centerpiece of conflicts and contradictions who anchors the floating pieces of the Irish puzzle in faith and doctrine, while mercifully refusing to sermonize. His fate becomes the new Calvary, with a cross of his own to bear.