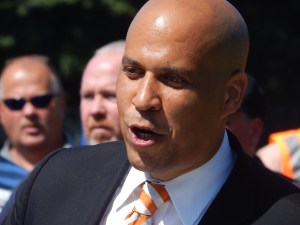 PARSIPPANY – U.S. Senator Cory Booker (D-NJ) and U.S. Senator Rand Paul (R-KY) have partnered on key legislative fronts, but Booker today carefully avoided the implication of too much Paul love today when PolitickerNJ asked him if he agreed with Paul's proposal to lower corporate taxes to replenish the Highway Trust Fund.
"It's not Rand Paul's proposal," said Booker, clarifying the question. "Everyone wants a lower corporate tax rate."
Booker said he and U.S. Senator Bob Menendez (D-NJ) caucused yesterday on Capitol Hill and discussed the issue with fellow senators. "Right now there's a whole patchwork of loopholes," Booker said. "We need to get rid of those loopholes and lower the tax rate. We need a predictable, stable tax code.
"This is not a Rand Paul proposal," the senator reiterated. "We have got to have the will again to do these common sense things."
It is a pet issue for Paul, though – met across the aisle by the likes of Senate Majority Leader Harry Reid (D-NV).
Earlier this month, Paul proposed Congress fund the Highway Trust Fund by lowering corporate tax rates, according to a report in The Hill.
"The interstate highway system is of vital importance to our economy," Paul said. "All across the country, bridges and roads are deficient and in need of replacement.
"We can help fund new construction and repair by lowering the repatriation rate and bringing money held by U.S. companies back home," Paul said. "This would mean no new taxes, but more revenue, and it is a solution that should win support from both political parties."
Paul subsequently partnered with Reid to champion a "one-time tax holiday — a special and lucrative tax deduction — to lure multinational corporations to bring profits home from overseas," according to the New York Times.