When HealthBridge executive Dan Grimes was diagnosed with Stage IV lung cancer, his friend Daniel Straus, CEO of CareOne and HealthBridge, decided to send out a rallying cry.
"When something happens, whether it is one man's battle with cancer or the ravages of a hurricane, it happens to all of us," Mr. Straus said in a press release. "We need to stand up as a community."
And stand up they will. On Sunday night, Boston's Fenway Park will play host on Sunday to HealthBridge and CareOne's first fundraiser for the CareOne Cancer Fund, set up to assist employees and their families with the often overwhelming cost of cancer treatment and support research.
Expected to raise over $1 million, the fundraisers will be led by former New York Giant great and current co-host of Live! with Kelly and Michael Michael Strahan and British pop singer Natasha Bedingfield, both activists in their own right.
"Everyone knows someone who has been affected by cancer," Ms. Bedingfield said in a press release. "The dollars raised will make a difference in the lives of cancer patients and their families that is real and measurable."
With performances by Ms. Bedingfield and R&B singer Ne-Yo, the fundraiser is only one of many, smaller campaigns taking place here in New York, Massachusetts, and New Jersey, where CareOne and HealthBridge operate.
This is not the first time Daniel Straus and his daughter Elizabeth Straus, Executive Vice President of CareOne and HealthBridge, have created imaginative ways to give back to their own community.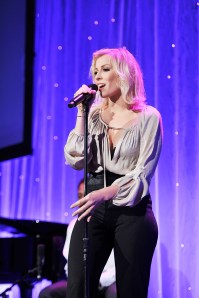 "The support means everything. I'm a 15-year employee and it's not surprising to me the level of compassion and the focus on the well-being of a fellow employee shown by the Straus'," Tim Hodges, Chief Strategy Officer at CareOne, told the Observer.
The charitable family has set up events that have raised a total of over $2 million in the past two years, one in the aftermath of Hurricane Sandy, another in support of the Valerie Fund for children's cancer.
"This is the toughest battle I've ever had to fight. But thanks to my colleagues and CareOne, I know I'm not fighting alone," the fund's first beneficiary, Mr. Grimes, said in a press release.