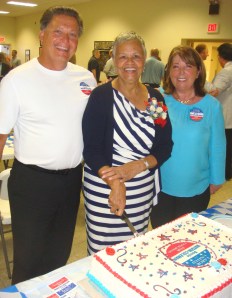 TRENTON – Organized labor came out in force for state Assemblywoman Bonnie Watson Coleman (D-15) on Wednesday, demonstrating its commitment to getting the Democratic candidate for Congress in New Jersey's Twelfth Congressional District elected in November.
Watson Coleman's labor support campaign rally, held at IBEW Local 269 in Trenton and attended by a significant number of union-member campaign volunteers, was co-hosted by the New Jersey State AFL-CIO, the Mercer, Middlesex/Somerset and Union CLCs, and OPEIU International, according to a press release issued by the New Jersey chapter of the AFL-CIO.
The AFL-CIO's written statement also outlined how Watson Coleman is "a good friend of labor."
"During 16 years in the state Assembly, [Watson Coleman]: voted 'no' on legislatively mandated pension/health benefits cuts; advocated for the Paid Family Leave law; opposed privatization and supported cost-analysis legislation; consistently voted in favor of the prevailing wage, Project Labor Agreements and school construction and championed progressive taxation of corporations and the wealthy to fully fund public-employee pensions," the statement reads.
Watson Coleman is running to succeed U.S. Rep. Rush Holt (D-12), who announced in February that he would step down when his current term expires in early 2015. She won a highly-contested primary battle for the Democratic nomination against state Senator Linda Greenstein (D-14) and state Assemblyman Upendra Chivukula (D-17) in June. Watson Coleman will now take on Republican candidate Dr. Alieta Eck in November. The Twelfth Congressional District includes parts of Middlesex, Mercer, Somerset and Union counties.
A Watson Coleman victory would be historic – she would become the first African-American woman to serve in New Jersey's congressional delegation. There are currently no women representing New Jersey in Congress.