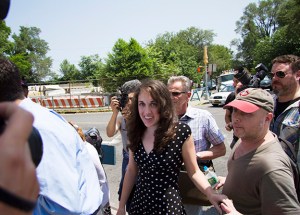 "The city and the state of New York labeled me a criminal," Cecily McMillan, 25, told members of the press following her early release for good behavior from Rikers Island Wednesday.
The Occupy protester and New School graduate student was convicted in May 2014 for elbowing a police officer during the Occupy protests of 2012 and was sentenced to 90 days in jail and five years probation. Ms. McMillan served 58 days.
"Millionaires and billionaires who had a vested interest in silencing a peaceful protest about the growing inequalities in America worked the justice system, manipulated the evidence, and suddenly I became dangerous and distinguished from law-abiding citizens," she said before clearing her throat and coughing. "I'm sorry… I haven't been allowed to speak for myself for a while."
Ms. McMillan made a statement upon her release speaking out against the ways in which the penal system has treated her and the other women of Rikers. Ms. McMillan's words were made all the more poignant in light of the drug busts made at Rikers in recent days. "Incarceration is meant to prevent crime," she said. "Its purpose is to penalize and then return us to the outside world ready to start anew. The world I saw at Rikers isn't concerned with that. Many of the tactics employed seemed to be aimed at simple dehumanization. In the interest of returning the facility to its mission and restoring dignity to its inmates, we, the women of Rikers, have several demands that will make this system more functional."
She then went on to list a series of grievances collectively drafted by her fellow inmates including "adequate, safe, and timely health care at all times…, that COs should be required to follow the protocol laid out for them at all times…, a clear and direct means to file a grievance that will be taken seriously…, [and] that [the inmates] be provided with rehabilitative and educational services that will help [them] to heal [their] addictions and gain new skills."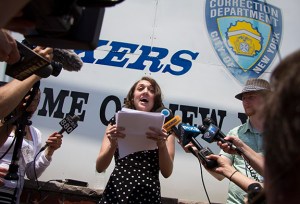 Particularly unsettling were the several specific cases of medical malpractice McMillan witnessed during her time at Rikers. She recalled the case of her friend "Judith" who passed away several days before McMillan's release from complications resulting from medical negligence. Judith had been prescribed pain medication for a back injury but was switched to a dangerously high dose of methadone against her will. Three days after the medication change, when she became disoriented and began coughing up blood and what the other inmates believed were chunks of liver, McMillan and others' attempts to get her help were ignored. Eventually Judith was admitted to the prison hospital where she remained in intensive care until her death several days ago. "This was a clear case of medical malpractice on several accounts. Stories like this are not anomalous. They are all too common." McMillan said.
Though they were slow to accept her initially, even believing at one point that she was an undercover cop, the other inmates eventually warmed to McMillan and opened up to her about their experiences and struggles within the walls of Rikers. Because of the media circus surrounding McMillan's release, she found that she was able to voice the grievances of those who would not otherwise be in a position to be heard. McMillan, ever the advocate, took her prison time as an opportunity to tell the public of the various abuses faced in the prison. "I was there to help and eventually we came together as women to ensure that we would have adequate needs met and try to transform the system." she said.
"On the outside I spent my time fighting for freedom and rights. On the inside I discovered a world where words like 'freedom' and 'rights' don't even exist in the first place." McMillan said. "I walked in with one movement and returned to you a representative of another… I am absolutely and further committed to fighting for rights and freedoms that I did not even realize had been eroded to the extent that they have. I will work tirelessly to make sure that these women's voices reach outside that prison system and I feel like we have finally made a real and concrete step towards affecting a true possibility of the statement 'we are the 99%.'"
Her words tell a story of defiance and reform, but there is no repentance for Cecily McMillan upon the day of her release from Rikers Island. When asked if she had any regrets, she smiled. "I wish that I had gone to the beach more before the trial. I mean, other than that?… I wouldn't change a thing."
McMillan stated that she will likely be on house arrest where she will await another court date and may face another year at Rikers Island.