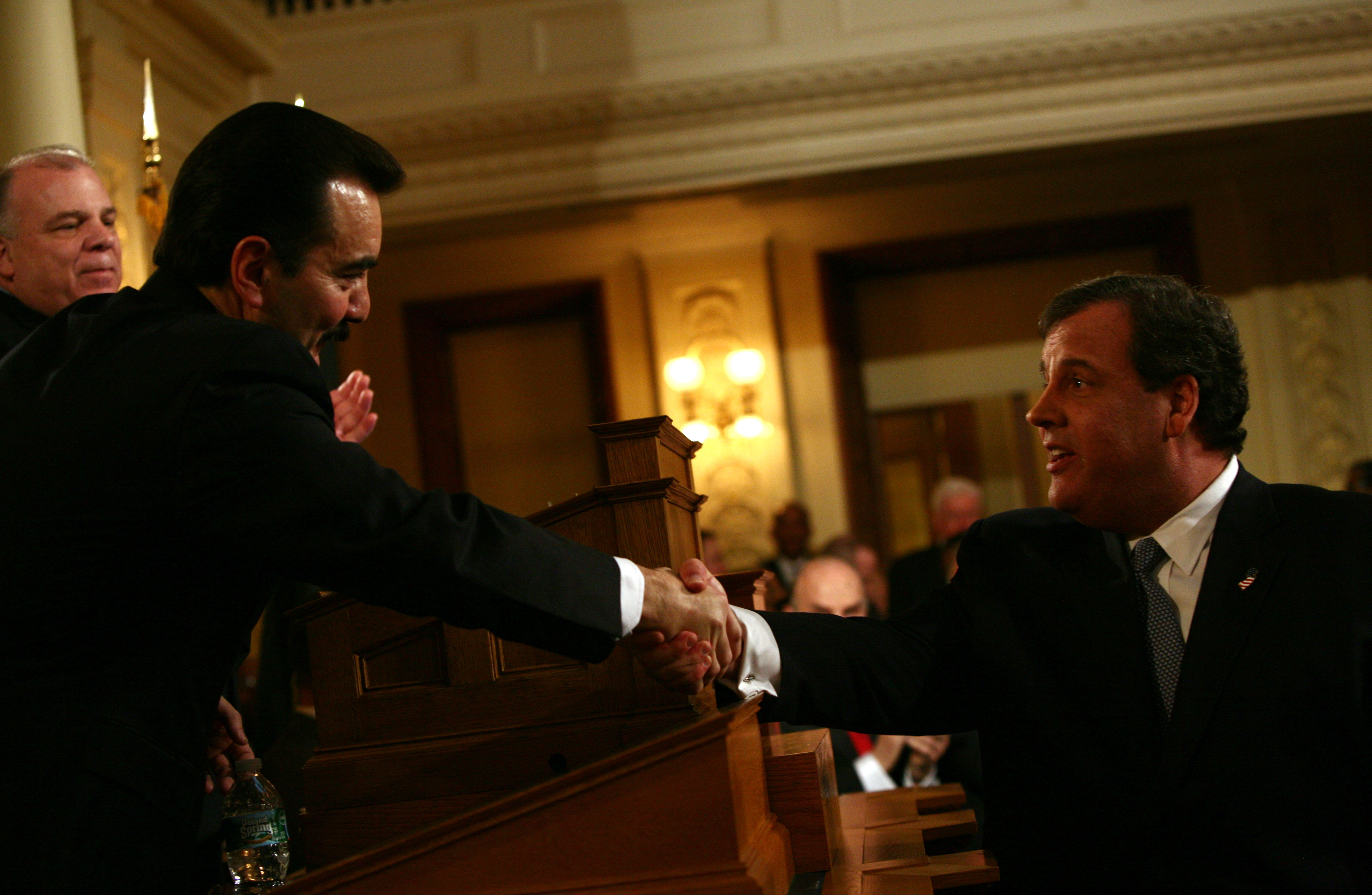 TRENTON -In a win-win moment for Gov. Chris Christie as he seeks tough guy points ahead of the 2016 GOP presidential primary, both houses of the legislature packed into the assembly chamber and listened as Christie pleaded for a constitutional amendment on bail reform this afternoon.
"This is our responsibility," said the former prosecutor. "This is something we need to do. We are failing. Those who pose the greatest danger to our communities walk free because the system does not provide our judges with any other option." And those accused of nonviolent crimes sit in jail because they lack the resources to post bail.
"Vote today," Christie urged.
Bail reform won't happen today, but that wasn't necessarily the governor's design, as he pounced on the national-sized silver platter issue served up by state Sen. Donald Norcross (D-5), which would restrict bail on violent offenders.
The vote will occur on Monday, likely completing the portrait of gubernatorial adult-in-the-room optics as Christie maneuvers for an edge in a developing presidential field.
Part of the deal to post it could be the inclusion of a vote for a constitutional amendment on open space – a Democratic wing of the Democratic Party issue to bring in some of the bail reform naysayers. Informed of that possible option to collar a few votes, at least one member complained about the cynicism of tying a civil rights issue to open space. The bill takes $71 million from the corporate business tax dedicated to other programs and changes it to open space.
"I have not used this authority frequently or lightly, and I do not do so today," the governor told lawmakers, after hauling them in from their summer breaks.
He thanked them for responding to the call of criminal justice reform.
"This is something of urgent concern to our people and of great importance. The single most important obligation we have is to protect the safety and welfare of our citizens," the governor said. "It's not about politics. It's about the people whose lives have been dramatically altered."
Embedded in the intrigue of this special session, attention swirled around Speaker Vinny Prieto (D-32), some of whose members – including the entire Essex County delegation – didn't want to vote today.
Questions. Concerns.
Pressed by the front office and the Senate Majority Office to cough up a majority, Prieto listened to caucus members who needed a little more time.
The speaker's practice is not to post a bill unless he has 41 aye votes in his own caucus.
Sources say he had closer to 35 confirms.
After meeting with his caucus this morning, the speaker appeared at last and offered an extended hand to Senate President Steve Sweeney (D-3), who stood at the base of Prieto's rostrum in a cricle of lawmakers, including state Sen. Kevin O'Toole (R-40), Assemblyman John Burzichelli (D-3) and state Sen. Donald Norcross (D-5).
Punctual as a rule, Prieto made a gesture toward his watch, as it to apologize for being late.
"The speaker wanted to ensure that everyone was comfortable or as comfortable as they can be with the bill before he posts it," a Dem source told PolitickerNJ.
Prieto and Assembly Majority Leader Lou Greenwald (D-6) confirmed to reporters that there would be no vote.
Christie appeared moments later and trumpeted the bill.
"I cannot force anyone in the legslature to vote," the governor said. "I hope it's your sense of fairness and justice that moves you to vote, and vote today."
Patrick Murray, political scientist and pollster with Monmouth University, called the session "an interesting show."
"It was much an implication for a national audience as the state given all the urgent needs in the state," said Murray. "But Prieto wasn't going to be a party to Christie's presidential ambitions or Steve Sweeney's gubernatorial ambitions – either. He's staked out a nice position."
There's an update to this story here.