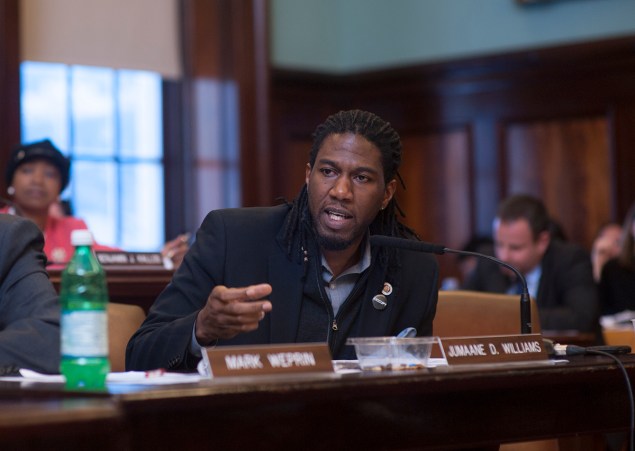 The city's budget may be balanced, but when it comes to personal finance, some City Council members are no strangers to debt.
Several Council members reported owing at least $5,000 in credit card debt on financial disclosure forms released by the Conflicts of Interest Board today.
Councilman Jumaane Williams appeared to owe the most of his fellow Council members, reporting between $30,000 and $263,994 on six different credit cards. Mr. Williams classified the debt as between $5,000 and $43,999 for each of the six cards, though he noted the debts were closer to $5,000.
On four of the accounts, Mr. Williams offered an explanation: that the debt was "a Business Loan for a defunct business that shut down in 2008. Liability is on the much lower part of the range selected." Mr. Williams, whose office didn't respond to requests for comment, briefly owned a restaurant.
Two credit cards accounts, he noted, were "personal," one of which he was "paying as agreed."
In addition to the six credit cards, Mr. Williams also listed an unsecured loan for between $5,000 and $43,999 for the defunct business—again noting the value was at the lower end of the spectrum.
He was not alone in having some credit card debt—Councilman Vincent Gentile reported owing between $15,000 and $131,997 on three different credit cards. Like Mr. Williams, he reported owing between $5,000 and $43,999 on each card.
"Just like many Americans, elected officials have mortgages, car payments, medical bills and unexpected expenses," a spokesman for Mr. Gentile said. "And just like many Americans, Councilman Gentile has credit card debt which he has been working hard to pay down."
Councilwoman Inez Dickens—whose disclosure notes she is half-owner of four large residential buildings worth more than $500,000—offered up exact figures for her credit card debt.
Ms. Dickens owes $27,045.96 on three different credit card accounts, including a $8,662.98 bill on a Sears department store credit card. Her office did not respond to a request for comment.
A handful of other members listed having debt of at east $5,000 on two or fewer cards. Council Speaker Melissa Mark-Viverito, is among several with debt for a single card—declaring that she owes between $5,000 and $43,999 on a single Visa. Her office declined to comment on the debt.
In addition to credit card debt, a slew of Council members owed student loan debt.