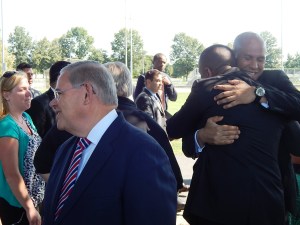 PARSIPPANY – They had a deal.
If Senator Bob Menendez's staff won a softball game against the staff of Senator Cory Booker, the sedentary Menendez would have to go out on a jog with physical fitness freak Booker.
If Menendez won, Booker would have to join Menendez – long comfortable with singing Irish songs – at the head of a very public room to join the senior senator for a rendition of "Danny Boy."
Menendez won.
His staff beat Booker's staff, 21-16.