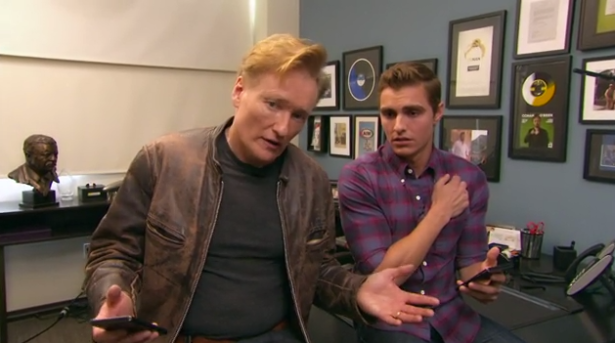 Tinder users in the vicinity of the Conan set should have been on the alert yesterday for users "Chip Whitley" and "Djengus Roundstone."
Those were the fake names used by Conan O'Brien and Dave Franco (a.k.a the hotter and more likable Franco) when the pair made Tinder accounts last night to meet ladies.
"For months now I've been listening to all the young people in my office talk about Tinder, a social networking site where you can find people in your area you've never met. They're in your vicinity, and they're ready to meet and maybe hook up," Mr. O'Brien says at the start of the hilarious segment. "Naturally, because I'm a creep, I'm intrigued."
Mr. O'Brien and Mr. Franco go through the typical, grueling steps of building an online dating profile, like taking each other's profile pics. Mr. Franco goes for the "I don't know you're taking a picture but I'm having a great time" pose, while Mr. O'Brien figures women like a guy who looks "busy."
Mr. O'Brien takes additional measures to woo the ladies by adding that he loves "chai lattes and showering." Sounds like our dream guy, tbh.
"You know what the flaw with this app is?" Mr. O'Brien asks after being rejected by a 74-year-old woman. "I wish there was a way that we could know their address even if they didn't want us to know it, and then we could go there and make them like us."
Truth.
The pair eventually leaves Mr. O'Brien's office to pursue one of Mr. Franco's Tinder matches.
Things work out alright for Mr. Franco, although not so much for his older pal. But that's okay — Tinder isn't Mr. O'Brien's dating app of choice, anyway.
"Whenever you don't see me on television, I'm on Grindr," he says. Noted.