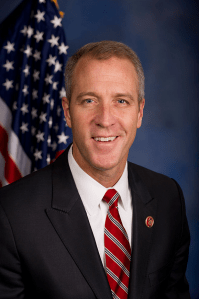 In what we assume was an attempt to wow his wedding-obsessed Pinterest followers, Rep. Sean Patrick Maloney (D-N.Y.) paid to have his nuptials recorded by a camera mounted on a drone, CBS reports.
The only problem, sadly, is that the Federal Aviation Administration bans the use of drones for commercial purposes — like, say, charging people for aerial wedding videography. The FAA now appears to be investigating the incident, Philly.com reports.
The drone drama started when Mr. Maloney hired a photographer to create a photo package of his June 21 wedding. That photographer reportedly subcontracted an aerial photography expert to shoot some video via drone.
After shooting the video, the aerial photographer reportedly posted outtakes on the company's website and on YouTube.
The FAA said yesterday they're looking into "a report of an unmanned aircraft operation in Cold Spring, New York, on June 21 to determine if there was any violation of federal regulations or airspace restrictions," Philly.com reports.
Though Mr. Maloney has acknowledged the drone was used at his wedding, his spokesperson has said the congressman wasn't really tapped in to what, exactly, his photographers were doing.
"On their wedding day, Sean and Randy were focused on a ceremony 22 years in the making, not their wedding photographer's camera mounted on his remote control helicopter," the spokesperson is quoted as saying.