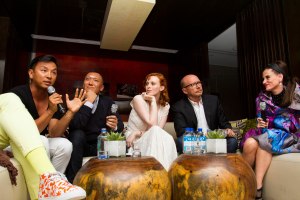 Perched atop white leather couches in the Living Room at W New York-Times Square, creative industry leaders discussed the mutual dependence of New York and artistry.
The intimate and lively panel was moderated by Yahoo Fashion's editor-in-chief and creative director Joe Zee and featured supermodel Karen Elson, the filmmaker Paul Haggis of Million Dollar Baby and Crash fame, designer Prabal Gurung, world-renowned architect Karim Rashid and curator Stacy Engman.
"The grit and the everyday challenges that New York brings taught me that I'm okay. I'm okay just being myself and that's what New York City does," said Prabal Gurung on leaving Nepal.
In addition to gaining insight into New York's creative scene, guests were also treated to an open bar and intimate sit-down dinner at Blue Fin in the hotel lobby following the panel.
Karen Elson, donning a lower-than-low-cut white gown, characterized modern New York as "a debate between creativity and success."
Ms. Elson went on to explain that, in the end, she found success by pursuing creativity. "I never once wanted to be at the top of the food chain," she claimed in her charming British accent. "For me, it's always been about doing something that moves me. Everyone here–we all do what we do because it moves us and it gets us up in the morning."
Mr. Haggis, when asked by Mr. Zee how much inspiration he derives from talent in New York, quipped, "I steal from everything around me—from every person I meet, from every relationship I've had, from every friend I've had—I steal. That's why I love New York."