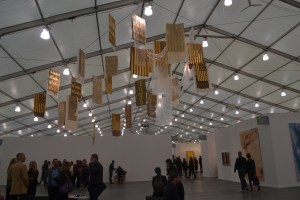 The absolutely inexhaustible Danh Vo has been selected by the Danish Arts Foundation to represent Denmark at the 2015 Venice Biennale, according to the Norwegian art site Kunstkritikk.
Where to begin with Mr. Vo? He's been on an absolute tear in recent years, snapping up the 2012 Hugo Boss Prize (his subsequent show at the Guggenheim was one of the high points of last year in the city), and appearing in the 2013 Venice Biennale, the 2011 Singapore Biennale, the 2010 Berlin Biennale and the 2010 Gwangju Biennale.
Mr. Vo, who brings a light, poetic conceptual touch to projects about personal and national histories, made his solo U.S. debut at Artists Space in 2010, and is represented here by Marian Goodman, where he had a show last year. If you're in the mood for some Vo action right now, you can head down to Brooklyn Bridge Park or City Hall Park to see sections of his We the People (2010–14) project, for which he's produced a 1-to-1 copper replica of the Statue Liberty.