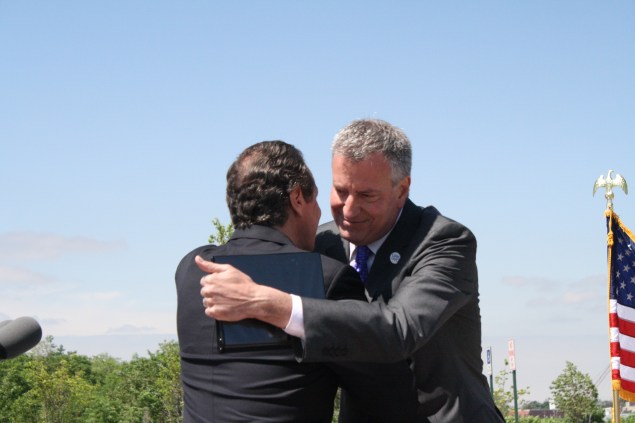 Mayor Bill de Blasio told reporters Wednesday he hadn't been following the story of Gov. Andrew Cuomo's apparent interference with the disbanded anti-corruption Moreland Commission — but went on to slam Rob Astorino for comments the Republican made in response to the story.
"I have been pretty consistent that I haven't focused on the Moreland Commission. It's not something I know a lot about," Mr. de Blasio told reporters today at an unrelated press conference. "I can tell you something about Andrew Cuomo — I've known him for almost 20 years. I think he's a person of high integrity."
He recalled his time working alongside Mr. Cuomo at the Department of Housing and Urban Development, which was rife with corruption.
"I think he did an extraordinary job helping to clean up HUD — even Republican members of Congress believed that HUD had gone through real reform, and so I think he has a long an impressive history of being an agent of reform," Mr. de Blasio said.
But while he repeatedly said he simply did not know much about a New York Times report alleging the governor had interfered with the commission's work before disbanding it — which led to a week of coverage in papers and on television throughout the state — the mayor was apparently keenly aware of comments Mr. Astorino made in response to the story, comparing Mr. Cuomo to a mafia boss. The mayor brought up that angle of the Moreland Commission story unprompted.
"I was personally very offended by the comments of Mr. Astorino, when he described the governor as a quote-unquote mafia boss. I think that was inappropriate in every way. I found it particularly inappropriate as an Italian-American. I thought it was a horrible invocations of a horrible stereotype, and didn't help at all to shed any light on the issues in New York State," Mr. de Blasio, just back from an Italian family vacation, said.
And though he said he didn't know much about the commission, he knew enough to take umbrage at a reporter calling it the "Moreland Commission fiasco," saying she had put "editorial content" in her question.
Pressed again with a second question about the Moreland Commission — and the need to ferret out corruption in a state where just yesterday former City Councilman Dan Halloran was convicted in a corruption and bribery scheme to rig the mayoral race — Mr. de Blasio again demurred on the specifics.
"I don't want to get into the weeds of the Moreland Commission, because I haven't followed it, but I can speak to the larger point — I am a big believer in the multiple layers of oversight, and I think New York City and New York State are very strong on this front," Mr. de Blasio told the Observer.
While some might disagree with his assertion–particularly about the state government, with Albany being known as a hotbed of corruption and political indictments–Mr. de Blasio cited entities like the city and state comptrollers and the city's Campaign Finance Board, Conflicts of Interest Board, and Department of Investigation as strong protections against corruption.
"But I can't comment on the specific durations of any particular piece — I'm just a fan of multiple layers of oversight," Mr. de Blasio said.
Mr. de Blasio was then pressed by a third reporter about why he hadn't been paying attention to what became the largest political story in the state over the last week.
"I'm not following it because I have a lot of other things to do," the mayor responded. "I try to keep up a bit with the world, but when I look at the media I am focused on the things that affect the city of New York directly."
The mayor has often weighed in on world issues happening much further from New York City than Albany — including weighing on international sanctions against Russia at the same press conference where he ducked Moreland questions.