The de Blasio family has now spent two nights in Gracie Mansion since their return from Italy and naturally, all us looky-loos are desperate to see what they've done with the place. (There has, after all, been much speculation about how the avowedly unfancy family would decorate their fancy new mansion—though clues emerged in the free pile outside the family's Park Slope rowhouse–they would not be taking the marijuana poster or the tome about the history of Spanx.)
And now, we get our first glimpse, via a post on the West Elm blog, a link to which was tweeted out by de Blasio spokesperson Rebecca Katz. The post, entitled, "West Elm Helps NYC First Family Move to Gracie Mansion," was authored by the furniture store's creative director Vanessa Holden and features photos, including one of first lady Chirlane McCray posing with West Elm designer Johanna Mele. The company donated the furniture and accessories to the Gracie Mansion Conservancy; it is unclear if the decorating services were also donated—a request for clarification made to Ms. Katz has not yet been answered.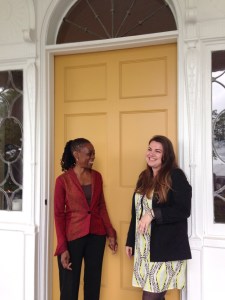 The blog also includes a quote from Ms. McCray promoting the company and its services: "Gracie Mansion will always be the People's House, but Bill, Chiara, Dante, and I are excited to call it home. With assistance from West Elm, we are honoring and preserving one of the nation's great historic residences, while turning Gracie into a modern living space that fits our family. We've moved to a new borough, but we brought some Brooklyn flavor with us."
It struck us as a rather strange decision that the de Blasios have elected to reveal their makeover of the mayoral mansion's private spaces—the public rooms will remain unchanged—not via a traditional news outlet, but via a corporate blog. Ms. Katz did not immediately answer an inquiry as to whether or not there was any agreement made between the de Blasios or the Conservancy and West Elm regarding promotion of the redecoration in return for the donation.
It is, in any event, a great plug for West Elm, which is owned by the same parent company as Williams-Sonoma and Pottery Barn. Photos on the company's blog show West Elm furnishings and decorations interspersed with family photos of the de Blasios. (Though we were unable to spot the family's rocking chair, of which Ms. McCray wrote when announcing the move—"Maria spent hours in this chair, rocking and reading to Bill when he was a baby. Chiara and Dante were also soothed by the rocking and the warmth of listening to stories in my lap.")
On its blog, West Elm discusses the task of designing for a family and Ms. McCray's vision for the home: "She wanted rooms that reflected her children's specific and individual styles, and a home that reflected their personal style as a family—approachable, livable, with a base of calming neutrals and accents of rich colors, natural and global influences."
Though the home design has been specifically catered to reflect the de Blasios' tastes and needs, both West Elm and a de Blasio spokesperson emphasized that the items were donated to the Conservancy.
"West Elm donated items to the Gracie Mansion Conservancy, so while the de Blasios will be using the furniture now, it is also for future first families," Ms. Katz wrote.
Though we expect future first families will, much like the de Blasios, have their own decorating preferences.