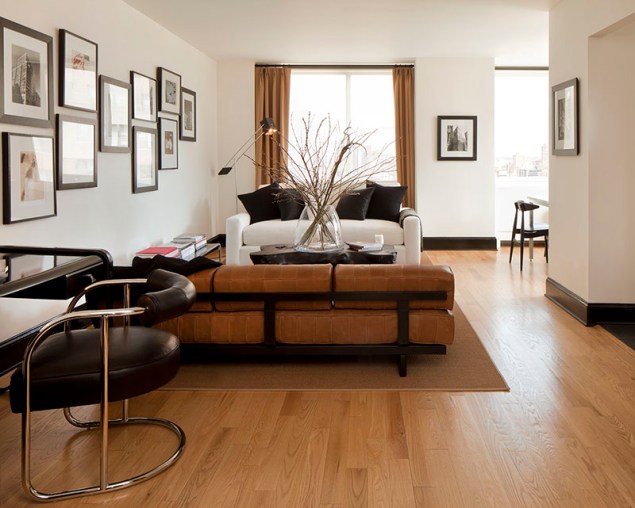 Those of us who speak regularly with real estate brokers are used to hearing the phrase "fair housing," which agents are apt to bring out to deflect inquiries about what sort of person might live in Development X, Y or Z. They are wary of suggesting that a building might be looking to attract certain classes of professionals, families as opposed to single folks or domestic rather than foreign buyers, lest such a preference violate anti-discrimination laws. Interior decorators, though, generally exhibit no such hangups. And on a recent morning, the Observer met designer Meg Sharpe at Aby Rosen's condo building at 300 East 64th Street, where Ms. Sharpe had been commissioned to outfit four model homes, a task she had taken up with admirable brio—and considerable suggestiveness about theoretical residents' identities and lifestyles—if not uniformly-successful results.
"Aby wanted everything to feel lived in," Ms. Sharpe said soon after we'd entered the first and most sedate apartment on the tour, a well-lit one-bedroom with blonde wood floors and a simple white couch, stacks of art books and tastefully-framed black-and-white photographs on the walls. "I envisioned this not quite as a starter apartment, but something for a younger generation couple." Talking Heads played softly, part of the unit's specially-designed soundtrack, as assistants busied themselves cutting and arranging flowers in the kitchen. The latter were not ambiance-bolstering actors, but they nonetheless lent the space the homey vibe Mr. Rosen, who allegedly suggested having a cat or two roaming the model units, had asked for. It was a mode that would fade rapidly.
Ms. Sharpe, who cut her teeth in New York on such high-profile commercial spaces as the Lion, Crown and the Windsor, bringing ornate framing, wood paneling and taxidermy to bear in creating moody, clubby and much-lauded restaurant and hotel environments, led us next into a 700 square-foot one-bedroom that she thought might suit a young European woman whose "parents bought her her first beginner's apartment." Dimly lit, with heavy gold curtains, a glitzy faux-palm lamp, black leather furniture and a bonafide zebra-skin rug, it resembled, roughly, the sort of place an aspiring diva with a trust fund might hole up in for a binge. "She's a dreamer," Ms. Sharpe explained of a cloud motif in the bedroom, where a glossy black skull candle stood watch near volumes by Donna Tartt and Ayn Rand.
The last two units, a two-bedroom Ms. Sharpe had decorated with a "glamorous single mom" in mind, and a shadow-dense one-bedroom "bachelor pad," owed a substantial debt to Mad Men. In the first, Art Deco furniture stood in the living room over a plush, light rug laid atop a dark-stained, hardwood floor. The were small, spiny chandelier fixtures and animal print here and there, velvet shower curtains and a heavy, perfumed aroma. A scallop-shell bed frame presided in the master bedroom. "They really let me dream big in here," Ms. Sharpe said. "I'm having a bit of a '70s freak-out moment right now." One could imagine the unit's glamorous single mom receiving late-night visits from the theoretical bachelor down the hall, who appeared to be a wealthy, fastidious and (possibly) very debonair alcoholic.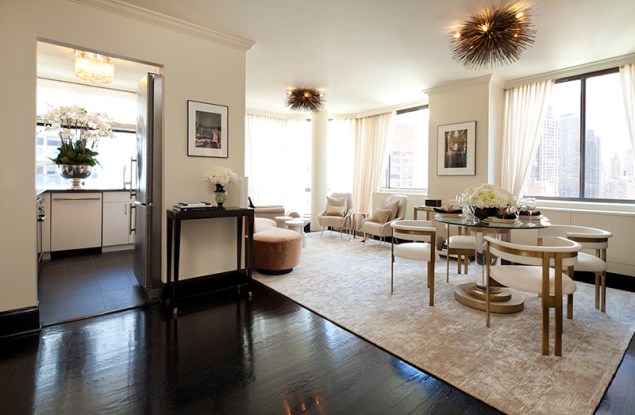 "We gave him a lot of alcohol," Ms. Sharped acknowledged, noting the wine displayed in the kitchen. A well-stocked bar cart stood in the living room's windowed corner beside a handsome leather armchair. It looked like a delightful place to admire the stars after a long day, or, in the event of clouds, to have one stiff drink after another. There were books on Bentley and Porsche, large standing mirrors, a soft grey palette throughout. A large flat-screen television had been displayed on an easel. The bedroom had no overhead fixture, but had been granted a high-gloss ceiling; self-respecting bachelors need to have some idea of what they're doing, after all.
The building features one, two and three-bedroom homes, including three penthouses; all of the above converted by Mr. Rosen from rental properties. There's a landscaped roof terrace and library lounge, fancy fixtures, black granite counters and appliances by Bosche. With homes that start well under $2,000 a square foot, 300 East 64th represents a pretty square deal in this day and age. We will not go so far as to call the place "fair"—it cannot be expected to surmount all alone the pressures of the Manhattan marketplace, after all. But we're sure Mr. Rosen would be glad to have you, even if you're not a bachelor, glamorous single mom or misguided diva. Then again, if you are, that's probably O.K., too.